2013 NEWS REPORT ON NAOMI CAMPBELL'S TRACTION ALOPECIA
Traction Alopecia In Black Women: Could Naomi Campbell's 25 Years Of Weaves Cause Permanent Hair Loss?
NAOMI CAMPBELL is the most successful black supermodel ever. But at what price? Could her receding hairline through traction alopecia result in permanent damage? By Ben Arogundade. [June.07.2016]
WHAT IS THE WEIGHT OF A WEAVE? This is a serious question, because ever since they were invented, the women who wear them habitually have risked having to pay a heavy price — in permanent hair loss.
THE PULL OF TRACTION ALOPECIA
This is the perpetual chatter that surrounds British supermodel Naomi Campbell. It started in April 2008 when the 46-year-old supermodel was photographed with an unusually wide hair parting while attending a gala opening at the Metropolitan Opera in New York.
"There is a possibility that Ms Campbell could be experiencing a condition called traction alopecia," senior trichologist Leonora Doclis (who did not treat Campbell) told the Daily Mirror at the time. Traction alopecia is the term used to describe damage caused by excessive pulling on the natural hair follicle by the weight of the weave attached to it.
TRACTION ALOPECIA IN BLACK WOMEN
The autopsy performed on Michael Jackson after his death in 2009 revealed that he suffered from this type of hair loss, while celebrities such as Victoria Beckham, Britney Spears, Serena Williams and Alexandra Burke are all reported to have suffered from traction alopecia in the past. The habitual wearing of weaves, hair extensions and tight hairstyles, by both black women and white, can contribute to the condition. "It's like ripping out a fingernail," says LA-based salon-owner and hair extensions expert Susan Lipson.
NAOMI CAMPBELL'S HAIR LOSS
Ever since Naomi Campbell's 2008 hair loss incident, the media has kept a sharp eye on the supermodel's hairline, eager to sneak more peaks beneath the billowing strands of her long-haired weaves. In June 2010 she was photographed again in New York, this time while being prepped for a photo shoot, just as a gust of wind blew against her weave, lifting the strands to reveal extensive bald patches on both sides of her head. The photographs sparked a frenzy of coverage in the media, as people speculated once again on the cause of her baldness.
But the most dramatic incident occurred in August 2012, when the supermodel was photographed by paparazzi after a swim, while on holiday in Ibiza with her then Russian boyfriend Vladislav Doronin. The shocking images that were beamed around the world showed Campbell with an extensively receded hairline and bald patch around the front of her head.
25 YEARS OF CAMPBELL WEAVES
Florida hair surgeon Dr. Alan Bauman (who did not treat Campbell) re-iterated the suggestion that the supermodel was suffering from traction alopecia. "Extensions, weaves, anything artificial hanging on hair — no matter whether you attach it with glue, special magnets, tape — it's going to cause damage over time," Bauman told ABCNews.com. "And unless you give your hair a break from those extensions, it won't rebound." There is a chance Campbell's hair is damaged permanently."
It is worth remembering that Campbell — discovered on a London street as a 15-year-old schoolgirl — has been wearing weaves and extensions without interruption for twenty five years, which suggests some damage is inevitable. With this level of continuous wear, one wonders if Campbell's boyfriend's have ever seen her "in the raw" — sporting her own natural Afro curls.
HAIR LOSS AND TRANSPLANT TREATMENT
It remains unclear how serious or permanent the damage to Campbell's hair may be. "It is possible to repair this condition by the use of certain treatments," says Leonora Doclis, "but the results depend on the severity of the condition and extent of the hair loss." If the extent of the traction alopecia is permanent, one treatment option to restore things would be a hair transplant, which involves moving healthy hair follicles from one part of the scalp to the damaged area. Another would be to ditch her weave altogether, in favour of custom made wigs. The most dramatic solution would be to shave her head completely and go bald, like 1960s black model Pat Evans, in what would be the boldest retirement look of any model ever.
FASHION FOR STRAIGHT HAIR
Haters amongst the fraternity of natural hair purists delight in the misfortune of Campbell's traction alopecia, highlighting it as a cautionary tale of what happens to those who dare mess with nature. But there is another, perhaps more disturbing side to the weaves and traction alopecia question — that is, that Naomi Campbell's hair choice is driven, less by her personal preference, and more by the demands of the fashion industry; and it demands that black models have long straight hair. Clients would not book Campbell, Jourdan Dunn or many of the other black supermodels, if they insisted on wearing their own Afro hair. This is a perpetual problem that the new generation of black models will also have to contend with. How will hot newcomer Lineisy Montero, known for trademark afro, the fashion industry's pressure to straighten?
AFRO HAIR OUT
The situation says much about the fashion industry's continued intolerance of black model's natural hair. But we, the consumers, are as much to blame, as commercially we reject Afro hair while fully buying into Campbell's weave, as seen across global ad campaigns and fashion magazine covers.
Campbell may have amassed a reported £20 million modelling fortune, but severe traction alopecia, or worse, baldness, in her old age may well be the price she ends up paying. "I guess you could call it a hazard of the job," says Bauman.
Ben Arogundade's book, 'Black Beauty' is out now.
HAIR REVOLT: Black British supermodel Naomi Campbell's 25 years of continuous weave wearing has taken its toll on her follicles, resulting in hair loss through traction alopecia — a condition caused by excessive pulling on her hair roots.
The Creativity of Author, Designer & Publisher Ben Arogundade
Home
Books
About
Articles
HAIR RETREAT: (From the top): Fashion model Naomi Campbell's extensive hair loss due to traction alopecia was captured by paparazzi photographers while the black supermodel was on holiday in Ibiza, August 2012; More of her hair loss was revealed by photographers as she prepared for a fashion shoot; if restorative treatment fails Campbell could face a bald future. This computer generated image shows what she would look like.
*NAOMI CAMPBELL - HAIR LOSS AND TRACTION ALOPECIA —THE STATS
1,000
The number of people worldwide who Google the phrase, "Naomi Campbell hair loss" each month.
2,000
The number of people worldwide who Google the phrase, "Naomi Campbell bald" each month.
6,600
The number of people worldwide who Google the phrase, "Traction alopecia" each month.
*All figures for "Naomi Campbell - Hair Loss And Traction Alopecia - The Stats", supplied by Google. Stats include global totals for laptop and desktop computers and mobile devices.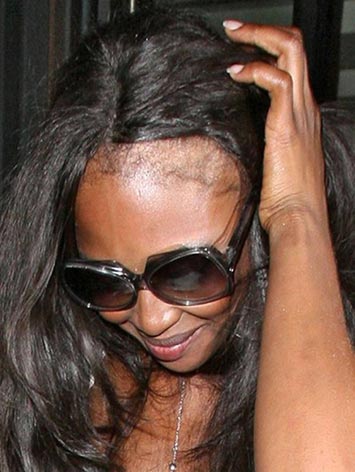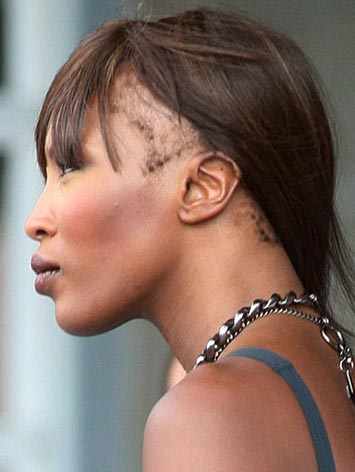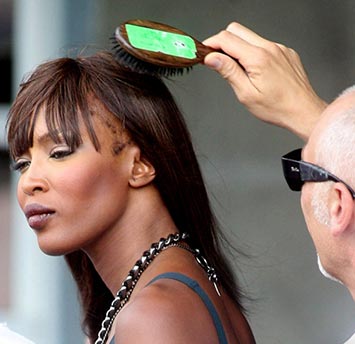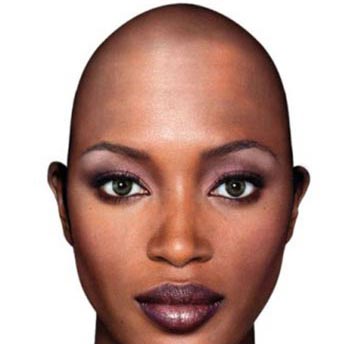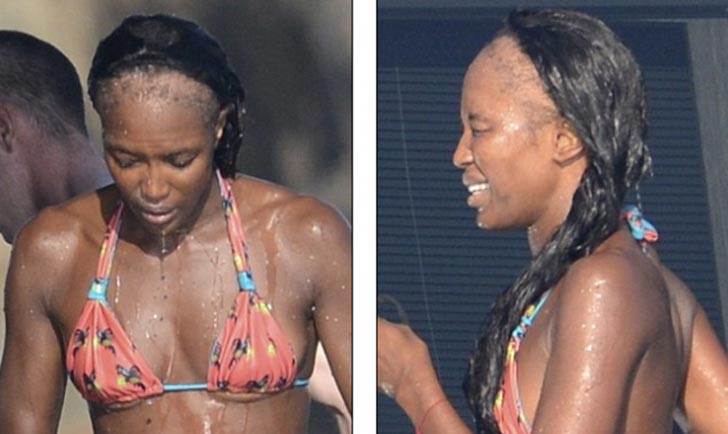 MORE ABOUT FASHION MODELS