| | | |
| --- | --- | --- |
| | WATCH: Halle Berry Talks About Her Dress On The Red Carpet - 2013 Oscars | |
| | | |
Hollywood Style And Fashion: 15 Years Of Actress Halle Berry's Red Carpet Oscars Dresses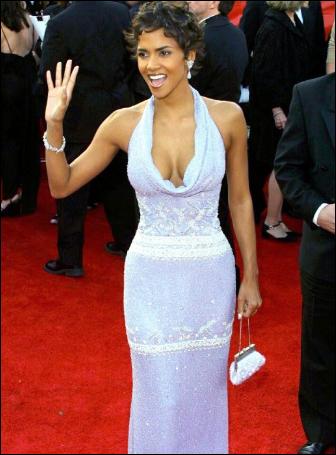 OSCAR STYLE BY HALLE BERRY: The Hollywood actress has a reputation for selecting showstopping dresses for the Oscar's big red carpet moment. Since the 49-year-old Academy Award-winner attended her first Oscar ceremony in 1998, she has particularly favoured designs by Elie Saab, Marchesa and Atelier Versace.
*HALLE BERRY STYLE AND OSCARS FASHION ACCORDING TO GOOGLE SEARCH
720
The number of people worldwide who Google the phrase "Halle Berry style" each month.
1,300
The number of people worldwide who Google the phrase "Halle Berry red carpet Oscars dress" each month.
*All figures for "Halle Berry Style And Oscars Fashion According to Google Search", supplied by Google. Stats include global totals for laptop and desktop computers and mobile devices.
EVERY YEAR, ON OSCAR NIGHT, the competition for which Hollywood actress wears the best dress is nothing less than fierce. Male attendees, perennially untouched by questions of style and fashion, look on curiously in their plain black tuxedos, relieved that their choices are the same each year.
Meanwhile, the reward for the actress who gets her dress right as she steps onto the red carpet on Oscar night, is arguably as significant as winning an Academy Award itself. The pictures and press coverage are worth millions in promoting both star and dress designer to a global audience, and in the aftermath, the dress and its wearer go down in fashion history, immortalised in books and blogs on the history of Hollywood style.
HALLE BERRY'S RED CARPET TURN
On Oscar night, Halle Berry is one of the names everyone looks out for on the red carpet, as in recent years she has chosen some showstopping gowns that have catapulted her into every fashionista's definitive list of the best Oscar dresses of all time. Her two standout Academy Awards moment were in 2002, when she won Best Actress for Monster's Ball while wearing a see-through, immaculately embroidered masterpiece by Lebanese designer Elie Saab — and the other was February of this year when the 48-year-old African American actress appeared in a glittering black and silver striped dress by Atelier Versace.
OSCAR DRESSES TOUTED
Since she first attended the Oscars back in 1998, the star of the movies Swordfish, Catwoman and X-Men has used different designers year-on-year, but there are three favourites, whose dresses she has worn for more than red carpet turn; they are Elie Saab (2002 and 2003), Marchesa (2009 and 2011) and Atelier Versace (2005 and 2013). Over the years, the upswing in post-Oscar business for these three fashion designers has been spectacular, and has galvanised an annual, and intense charm offensive from these and other designers hoping that Berry will choose their creations next time. So, who will she choose in 2015? Watch this space.
Black Beauty by Ben Arogundade is out now.
HOLLYWOOD STAR Halle Berry ranks amongst the best dressed Oscar attendees of all time. We profile the pictures from 15 years of her red carpet style and fashion moments. By Ben Arogundade.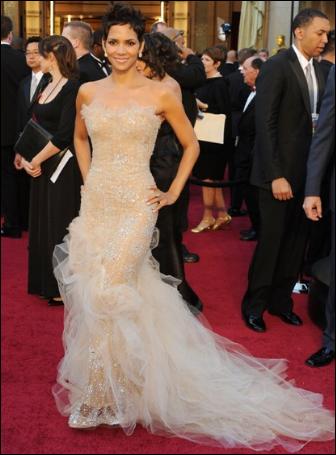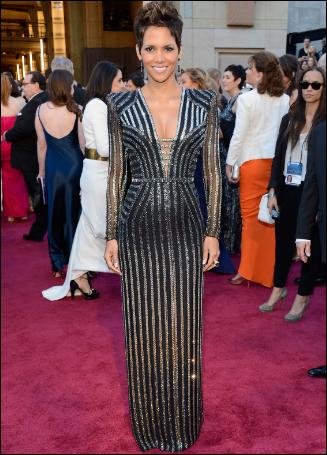 1998
By VERA VANG
2001
By BADGLEY MISCHKA
2002
By ELIE SAAB
2003
By ELIE SAAB
2005
By ATELIER VERSACE
2009
By MARCHESA
2011
By MARCHESA
2013
By ATELIER VERSACE

THE BEAUTY BIAS
Angelina Jolie's Big Lips - Only Beautiful Because She's White.

NEXT: MORE ABOUT HOLLYWOOD ACTRESSES
RED CARPET CLOSE-UP: On the red carpet at the 85th Academy Awards in Hollywood, February 24, 2013, actress Halle Berry wore this dress by Atelier Versace, applauded for its bold geometric style and fine detailing.
WHAT 10,000 FANS ASK ABOUT PAULA PATTON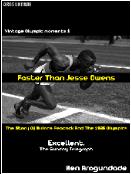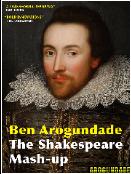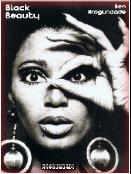 2014
By VERSACE