VANESSA WILLIAMS INTERVIEW AS FIRST BLACK MISS AMERICA 1984
Moments In African American History: Vanessa Williams - The First Black Miss America Winner (1984)
IN 1983 VANESSA WILLIAMS made history in becoming the first African American to win the Miss America beauty pageant — but then some photographs from her past re-surfaced. By Ben Arogundade. [Sept.13.2016]
AFRICAN AMERICANS WERE BANNED from competing in the white-run beauty pageants of the early twentieth century. The racism of the organizers was open and blatant. During the 1930s, the Miss America pageant organisers instituted the notorious rule number seven of their entry guidelines, stipulating that all "contestants must be of good health and of the white race." To prevent light-skinned African Americans from slipping through the net, the girls were also required to complete a written questionnaire, detailing their ancestry as far back as they were able.
BLACK-OWNED BEAUTY
African Americans fought against this exclusion by launching their own beauty pageants, beginning in the 1920s, most of which were sponsored by newspaper publishers and cosmetics firms. In 1925 Golden Brown ran a contest in a local newspaper that attracted 1,400 African American contestants and 300,000 votes. They were important events, as they proudly proclaimed that black women of all shades and styles were beautiful, at a time when the white media suggested the opposite by excluding them.
FIRST BLACK MISS AMERICA CRASHES IN
It was not until post civil rights 1970s that an African American, Iowa's Cheryl Brown, won a mainstream state title. Then a decade later, Lencola Sullivan became the first black beauty to make it into the top five when she competed in Miss Arkansas. By now the Miss America pageant was the highest-rated show on American television. The winners were the flesh-and-blood representation of the nation's stars and stripes. The very notion that this accolade could be held by a black contestant was unthinkable. But this all changed on September 17, 1983 when Vanessa Lynn Williams, a 20-year-old college student from Millwood, NY, who had recently won the Miss New York crown, made history in becoming the first black Miss America (1984) after securing both the swimsuit and the talent sections of the competition. It was black beauty's equivalent of Jackie Robinson breaking baseball's colour bar with the Brooklyn Dodgers in 1947. Amongst the congratulations she received a phone call from President Ronald Reagan.
BLACK, LIGHT AND BLUE
But the celebrations were muted, as Williams' light skin and naturally blue eyes incurred the disdain of sections of the African American community, who argued that aesthetically, she was not "black" enough. "A lot of people thought I wasn't representative of a true African American since I didn't have dark eyes and dark hair, and wasn't brown-skinned," Williams recalled. "So there was a division."
This was like a slap across the face of the young bi-racial beauty queen, as she learned that winning, indeed making history, seemed secondary to the apparent depth of her blackness. The African Americans who criticised her for being crowned the first ever black Miss America effectively wanted someone who looked more like a female Sidney Poitier to be the first representative of national black beauty.
Instead, what they got was a Dorothy Dandridge — someone whose diverse racial background represented the country's multi-ethnic kaleidoscope. Who better to symbolise America's collective historical biology than Williams — a beauty queen of African and European ancestry, plus nine nationalities, all rolled into one alluring package.
TRIUMPH TO TRAUMA
Alas, America didn't see things that way, and unfortunately the trouble didn't end there for Williams; 10 months into wearing the Miss America crown, the star of TV shows Ugly Betty and Desperate Housewives received an anonymous telephone call informing her that Penthouse magazine was about to run a pornographic photo-spread in its September edition, that she had posed for in 1982 together with a white model, during a vacation job in her freshman year with New York photographer Tom Chiapel. The New York Times described the offending shots as simulating 'sexual relations with another woman'.
THE CROWN FALLS
The scandal raised the temperature on all manner of America's questions about pornography, lesbianism, miscegenation and sexual stereotypes. The unassuming Miss America claimed that she had been duped by the photographer, and that she had never signed a release form authorising publication of the offending images. There was some sympathy for the young beauty queen within the African American community, many of whom suggested that the media had conspired to denigrate the image of black women as unfit to occupy elevated positions within society.
Nevertheless, the pageant's executive director demanded Williams' immediate resignation in the name of traditional American values. Suddenly, her reign as a beauty queen came to an abrupt end. Despite the humiliation, Williams remained defiant. "I am a fighter," she told the packed press conference during her resignation address.
Over 20 years have passed since then, and Williams has indeed succeeded in fighting back, with successful careers both as an actress and recording artist. Her misdemeanours seem tame today compared to what we've seen from Madonna, Lady Gaga or Rihanna, for whom sex-related scandals have become a familiar and recurring part of the marketing mix. Within this context, Williams appears like a reluctant godmother to these upstart offspring — the accidental controversialist whose badness came good.
Ben Arogundade's book 'Black Beauty' is out now.
SHE WEARS THE CROWN: In September 1983 Vanessa L. Williams was crowned the first black Miss America (1984). "I became Miss America, and people didn't even know about me smoking pot, having a boyfriend, having an abortion — I had lived a life before I became famous," the 'Ugly Betty' and 'Desperate Housewives' star said on Anderson Live.
The Creativity of Author, Designer & Publisher Ben Arogundade
Home
Books
About
Articles
MORE ABOUT VANESSA WILLIAMS
LIFE & BEAUTY: TV actress and recording star Vanessa Williams appears on the cover of the December 1983 edition of Ebony magazine after being crowned the first black Miss America winner 1984; Williams, star of TV shows Ugly Betty and Desperate Housewives, with mother Helen, a former high school music teacher.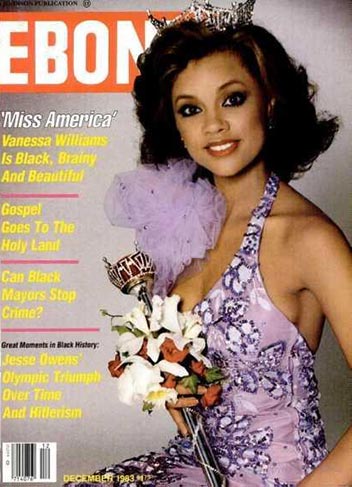 THE MISS AMERICA PAGEANT - STATS
1970
Year of the first African American Miss America contestant.
56
Number of white Miss America winners before Vanessa Williams
8
Number of black Miss America winners after Vanessa Williams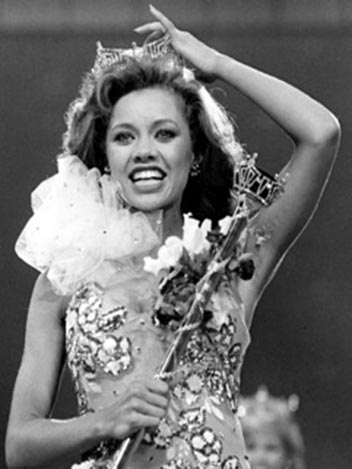 AMERICAN BIOLOGY
Light-Skinned, Straight-Haired, Blue-Eyed — & Black. Vanessa Williams' Complex Ethnicity.