ACTRESS/MODEL TAO OKAMOTO — FACTFILE
Born: Chiba, Japan, May 22, 1985
Age: 30
Height: 1.77m
Fashion model icon: Stella Tenant.
Worked for: Ralph Lauren, Armani, D&G, Tommy Hilfiger, Kenzo, Kenneth Cole, Gap, Benetton, McQueen, Givenchy.
Breakout film role: 'The Wolverine' (2013).
Other roles: 'Batman vs Superman'.
Fave vintage find: YSL overcoat, $900
Fave pastime: Broadway musicals.
Marital status: Married to Tenzin Wild.
COOL TAO OKAMOTO INTERVIEW ON MODELLING
Tao Okamoto, Japanese 'Wolverine' Actress, Goes Global As 900,000 Google Her Background, Parents, Husband
BEST KNOWN FOR her role in the movie 'The Wolverine', Japanese model and actress Tao Okamoto's success has sent thousands clamouring to Google for info about her private life. By Ben Arogundade. [Feb.10.2016]
THE STORY OF HOW Tao Okamoto found FASHION modelling is a classic. "When I was in junior high I was walking down the street and this guy just came to me," she recounted to Stylecaster.com. "Then I thought like, oh, maybe I can do something to use my height and looks."
TAO OKAMOTO RISES
Born on May 22, 1985 in Chiba, Japan, Tao Okamoto, plucked off the street like countless other beauties before her, sought the approval of her parents — both ex-actors — before she took the plunge. They advised her to get herself a good agent, and so she sent some pictures of herself to a local model agency. After being taken on, at just 14-years-old, Tao, as she is now better known, worked in Japan for five years before moving to France in 2006, where she made her debut on the Paris runways for Ungaro and Martin Grant.
TAO'S REACHES MODEL HEIGHTS IN NEW YORK
But it was when she moved to New York in 2007 that Tao rapidly became a designer's favourite, initially doing runway for Marc Jacobs, plus a Moschino ad campaign shot by Peter Lindbergh. The distinctive feature that catalysed her success at that time was her hair — a beautiful Vidal Sassoon-style black bowl-cut bob, last seen on Sixties supermodel Peggy Moffitt. It led to her being cast in dozens of shows, most notably that of Chinese-American designer Phillip Lim, who liked her cut so much that he decided that all the girls in his fall 2009 show should sport the same hairdo. "It was amazing," Tao remembered. "I thought he was joking when he first told me."
From there on, Tao has gone from strength to strength, working for fashion designers such as Alexander McQueen, Givenchy, Emporio Armani, D&G, Tommy Hilfiger, Kenzo, Kenneth Cole, Gap and Benetton. In 2009 the Japanese native became the face of Ralph Lauren, and in November of that year Vogue Nippon (Japan) dedicated a whole issue to her.
THE WOLVERINE ACTRESS
Her breakthrough Hollywood film role came in 2013 when she starred as the character Mariko Yashida, Hugh Jackman's love interest, in The Wolverine, which saw our hero travel to Japan to train with a samurai warrior. Since then she has appeared in the TV series, Hannibal, and the movie, Batman vs Superman: Dawn Of Justice, opposite Henry Cavill and Ben Affleck.
TAO OKAMOTO's MAN: BOYFRIEND TO HUSBAND
When it comes to her personal life, Okamoto has been cagey about boyfriends. The 30 year old once confessed that when she was younger she had an English boyfriend while studying as an exchange student, and that he was less than comfortable with her interest in Jackman. "He was very jealous that I liked Hugh Jackman so much," she recalled.
More recently she has been dating Tenzin Wild, co-editor-in-chief of The Last Magazine. In 2014 they featured as boyfriend and girlfriend in an ad campaign for Banana Republic clothing. The couple were married in Switzerland on May 1, 2016, with Tao wearing a gown by Philip Lim.
ASIA'S NEW HEIGHT
Like many other stars of modelling and movies, Okamoto's success is not simply down to talent, but also timing. As the East Asian nations grow in economic power, producing a constant stream of wealthy new customers in its wake, the entertainment industry has responded in reflecting the aesthetic of these new entrants. It is the beginning of a trend that looks set to intensify.
Ben Arogundade's book, 'Black Beauty', is out now.
TAO'S TIME: Japanese actress and model Tao Okamoto leads a new crop of East Asian beauties currently making waves in fashion and film. A regular in the pages of 'Vogue' Japan, she starred opposite Hugh Jackman in the 2013 movie, 'The Wolverine', and more recently in 'Batman vs Superman: Dawn Of Justice'.
The Creativity of Author, Designer & Publisher Ben Arogundade
Home
Books
About
Articles
TAO TAKES ALL: (From top); Japanese model and Hollywood actress Tao Okamoto and boyfriend Tenzin Wild feature in a 2014 ad campaign for fashion brand Banana Republic; Tao and Tenzin became husband and wife on May 1, 2016. Their wedding took place in Switzerland, with Tao's dress by Philip Lim; 'Vogue' Nippon (Japan) devoted its November 2009 edition to Tao Okamoto; Tao graces the cover of the July 2015 edition of 'Vogue' Japan; Hugh Jackman and Tao Okamoto in a still from the 2013
movie, 'The Wolverine'
.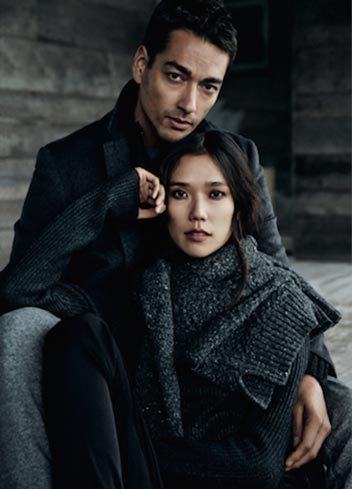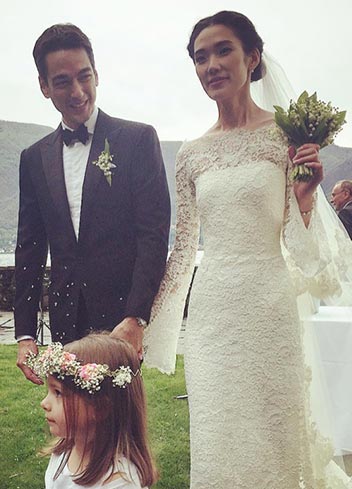 *JAPANESE ACTRESS & MODEL TAO OKAMOTO — THE STATS
270
The number of people worldwide who Google the phrase, "The Wolverine Japanese actress", each month.
300
The number of people worldwide who Google the words, "Tao Okamoto, parents, age, height, boyfriend", each month.
74,000
The number of people worldwide who Google Tao Okamoto's name each month.
*All figures for "Japanese Model Tao Okamoto - The Stats", supplied by Google. Figures include global totals for laptop and desktop computers and mobile devices.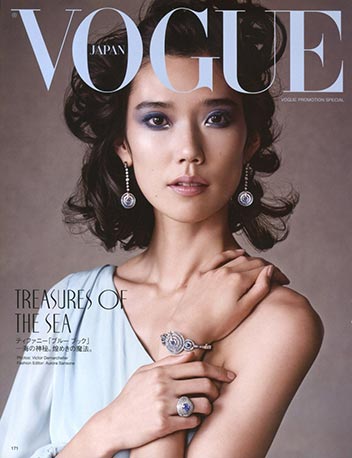 MORE ABOUT JAPANESE FASHION MODELS