BBC NEWS REPORT ON ARIANA MIYAMOTO & HAFU CULTURE
Ariana Miyamoto Was Shunned As Japan's First Mixed Race Miss Universe 2015, But 1m Google Her Ethnicity & Parents
HER MOTHER AND FATHER are black and Asian, and their daughter, Ariana Miyamoto, winner of Miss Universe Japan 2015, challenges traditional notions of what it is to be Japanese. By Ben Arogundade. [Apr.01.2016]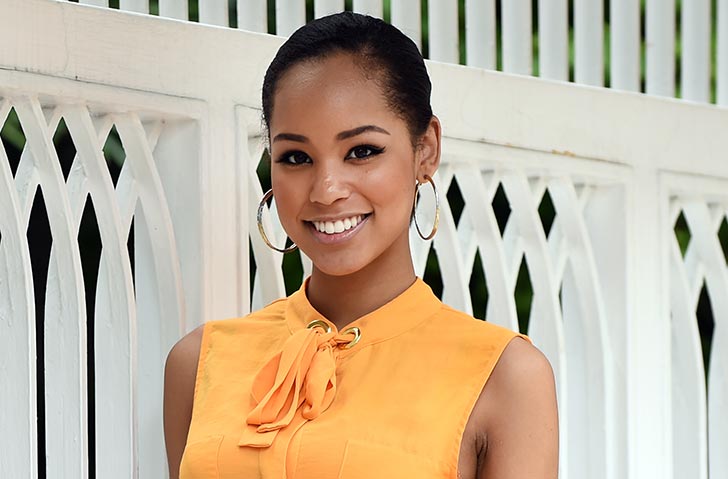 IT HAD TO HAPPEN. The global movement of people is gradually creating a more diverse population in almost every country in the world. 21-year-old beauty queen Ariana Miyamoto is but one of the children of this complex new order, and her parents are typical of these connections.
ARIANA MIYAMOTO'S PARENTS
She was born Ariana Mamiko Miyamoto in Nagasaki, Japan on May 12, 1994. Her mother is Japanese and her father, Bryant Stanfield, is an African American ex-serviceman who met Miyamoto's mother while stationed at Sasebo, Nagasaki, when he was in the US Navy. Ariana grew up in Japan, but briefly went to live with her father in the US from the age of 15 to 18, after which she moved back.
Throughout her childhood Ariana stood out as a mixed race person within the mono-ethnicity of Japan. She was called "Hafu" — the Japanese term for an "inbetweener" — someone who is not regarded as fully Japanese or fully foreign. "I have lived in Japan all my life, but when I say I am Japanese, people say, you can't be," Miyamoto told the BBC. "They don't believe it."
MOTHER & FATHER'S GENES HURT
Ariana was bullied at school for her mixed race heritage, in similar fashion to the way mixed race celebrities such as singer Rihanna, as well as actresses Vanessa Williams and Jennifer Beals were for being light-skinned. She names African American recording artist Mariah Carey and British-born model Naomi Campbell as role models, as they both overcame racial hurdles in order to succeed.·
MISS UNIVERSE JAPAN
Miyamoto's life took a turn when she decided to enter a Japanese beauty contest. She didn't think she would win, with her heritage, but then a close multiracial friend of hers committed suicide, and she felt that she had to do something about it. She did, when, to the surprise of the whole country, she won. On March 12, 2015, the 5' 8" beauty was crowned Miss Universe Japan.
Unsurprisingly, her victory did not go down within a Japanese population that retains a narrow definition of what it is to be Japanese. The media generally ignored her historic triumph, which was celebrated more internationally. Miyamoto was also vilified online. "The representative of Nagasaki for Miss Universe Japan is really beautiful, but her face does not look like a representative of Japan," wrote one Twitter critic. "The face of Miss Universe Japan is obviously [that of] a foreigner!" stated another.
ARIANA MIYAMOTO ON GOOGLE
But around the world, interest in Miyamoto's triumph, and its aftermath, has sparked a frenzy of activity across the Internet. According to search statistics supplied by Google, approximately 1,600 people per month search the term, "Ariana Miyamoto parents". The search giant also records 74,000 monthly queries for her name alone. The total number adds up to approximately one million searches per year about the young beauty queen.
HAFU JAPANESE ALL
Ironically, Miyamoto's Hafu status does not separate her from the country's 127 million Asians. Historically, Japanese people themselves are not "pure", consisting of a historical blend of people from Korea, China and South East Asia. But more accurately, DNA ancestry testing now reveals that all humans are composed of a combination of ethnicities, and that racial purity is a myth.
And so, regardless of appearance, the reality is, all humans are Hafu.
Ben Arogundade's book, 'Black Beauty', is out now.
MODERN JAPANESE: Ariana Miyamoto is Japan's first ever Miss Universe. Her father is African American and her mother is Japanese. Traditionalists were angered when she won the title, as they did not consider her to be "true" Japanese.
The Creativity of Author, Designer & Publisher Ben Arogundade
Home
Books
About
Articles
MORE ABOUT ASIAN FASHION MODELS
LOVE & HAPPINESS: Mixed race Japanese beauty queen Ariana Miyamoto and her parents. Her father, Bryant Stanfield, is an ex-US serviceman who met her mother while stationed in Japan. SHE WEARS THE CROWN: Miyamoto is crowned Miss Universe Japan, on March 12, 2015.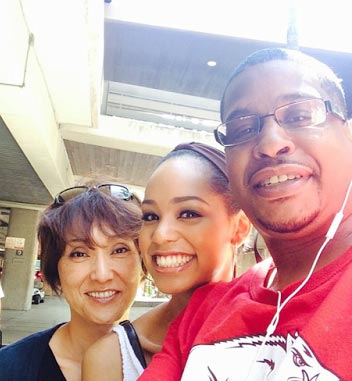 *ARIANA MIYAMOTO ACCORDING TO GOOGLE SEARCH
1,600
The number of people worldwide who Google the phrase, "Ariana Miyamoto parents" each month.
74,000
The number of people worldwide who Google Ariana Miyamoto's name each month.
*All figures for "Ariana Miyamoto According to Google Search", supplied by Google. Stats include global totals for laptop and desktop computers and mobile devices.