| | | |
| --- | --- | --- |
| | WATCH: Photo Montage Of Ugandan Model Princess Elizabeth BAGAAYA Of Toro | |
| | | |
Africans In Fashion History: 60s Model & Lawyer
Princess Elizabeth Bagaaya Of Toro, Uganda
AFRICAN BEAUTY REPRESENTS: Princess Elizabeth Bagaaya Of Toro, Uganda was one of the first African models in the history of fashion, featuring in 'Vogue' and 'Harper's Bazaar' in the 1960s. The forerunner to Iman, Toro was the first black fashion model to be shot for the cover of 'Bazaar', featuring on their November 1969 edition.
IN 1967 UGANDAN PRINCESS Elizabeth Bagaaya of Toro ditched law to become a fashion model, going on to make history as the first African woman to appear on the cover of Bazaar. By Ben Arogundade.
THE FIRST AFRICANS began to break into fashion modelling in the USA in the late 1960s, on the back of the gains made by the American Civil Rights Movement, which simultaneously ushered in the first African American supermodels, Donyale Luna and Naomi Sims. While the African American beauties were essentially working class girls made good, by contrast the first African fashion models were the well-to-do daughters of tribal kings and diplomats, who were educated and well travelled. Yahne Sangare was a Liberian diplomat's daughter, who combined modelling with a post as a news correspondent for the United Nations. She had studied at the Sorbonne in France, and attended finishing school in Switzerland.
AFRICAN ROYALTY ENTERS FASHION
Ugandan princess and barrister Elizabeth Bagaaya Nyabongo of Toro was educated at England's Sherborne School For Girls, and went on to study law at Cambridge University in 1959. Amongst her tutors were E.M. Forster and F.R. Leavis, and her classmates included Germaine Greer and David Frost. She graduated in 1962 and passed the English Bar in 1965.
ELIZABETH OF TORO'S FAMOUS FRIENDS
In 1967 Elizabeth was introduced to fashion modelling by her friend Princess Margaret, who invited the African princess to appear as a guest model at a Commonwealth runway show in London. She was a big hit, and decided to ditch law for modelling. Her connections proved vital once more, as Jacqueline Kennedy Onassis, whom she'd met at a party, introduced Toro to the New York fashion scene, where her royal status catapulted her into the mainstream fashion titles. The June 1969 edition of Vogue featured her in a four-page spread, and in November of the same year Toro made history in becoming the first black model, and the first African, to feature on the cover of Harper's Bazaar.
TORO'S TIME
Alas, this historic first cover was marred by the fact that the young African had her face obscured by the magazine title's logo. Nevertheless, she was inundated with offers of work, shooting with major fashion photographers Bill King and Irving Penn. She was even offered a large sum to pose nude, but she considered this a step too far for a woman of her background.
In the end, the Ugandan princess had bigger ambitions than fashion modelling, and so her career was short. She returned to Uganda in 1971, taking up a career in politics.
BLACK BEAUTY by Ben Arogundade is out now.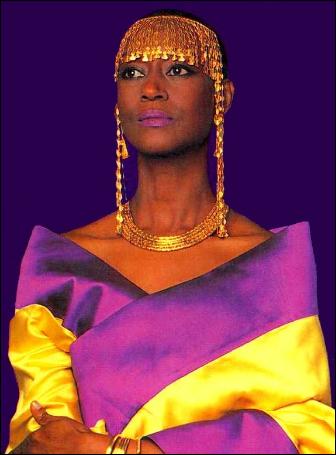 AFRICA MEETS AMERICA: In the 1960s Princess Elizabeth Bagaaya Of Toro became the first African model to appear in mainstream fashion and lifestyle magazines such as 'Vogue' and 'Harper's Bazaar'. Above, the Ugandan model features in a spread about black models in 'Life' magazine, October 17, 1969.
*PRINCESS ELIZABETH BAGAAYA OF TORO AND AFRICAN FASHION, ACCORDING TO GOOGLE SEARCH
800
The number of people worldwide who Google Princess Elizabeth Bagaaya of Toro's name each month.
800
The number of people worldwide who Google the phrase, "Famous Africans" each month.
15,000
The number of people worldwide who Google the phrase, "African fashion" each month.
*All figures for "Princess Elizabeth Of Toro And African Fashion, According to Google Search", supplied by Google. Stats include global totals for laptop and desktop computers and mobile devices.
NEXT: MORE BLACK MODELS OF THE 60s