RIHANNA IN BARBADOS TOURIST BOARD AD 2013
Where Is Rihanna From Originally? Is She Barbadian, Jamaican, American Or British? 180,000 Ask Google
FANS WANT TO KNOW every detail about the life of music star Rihanna. Questions about her nationality draw thousands of queries per month from fans across the globe. By Ben Arogundade. [May.16.2016]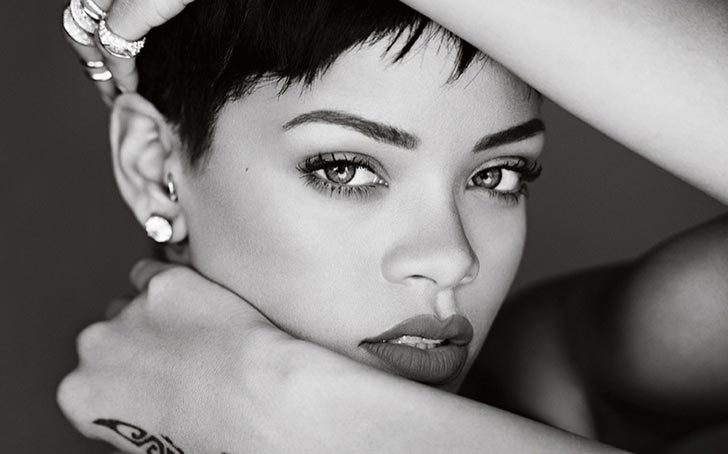 WHERE IS RIHANNA FROM ORIGINALLY? Where was she born? Is she British? American? Jamaican, Barbadian? Thousands of her fans around the world are not sure. 15,000 of them, to be precise. That is the global number who, according to Google's search records, type the phrase, "Where is Rihanna from?" into the browsers of their computers and mobiles every month in search of the facts about her origins. This adds up to 180,000 searches per year.
NOT AMERICAN, NOT JAMAICAN — BARBADIAN
Actually, the singing star hails from the West Indies. She was born in Saint Michael, south-west Barbados, on February 20, 1988. Her mother, Monica Braithwaite, is Afro-Guyanese, (Guyana is located off the northern coast of South America), while her father, Ronald Fenty, is of Barbadian and Irish heritage.
BARBADOS & RIHANNA
Rihanna's homeland has a complex racial history that dates back to the era of the transatlantic slave trade. The first African captives arrived on the island in 1627, and the Irish came in numbers from 1648, after English military leader Oliver Cromwell crushed a rebellion in Ireland and deported 50,000 Irish soldiers, political prisoners, priests, teachers and dissidents, selling them on to British plantation owners as slaves and indentured servants. Many of them coupled with Africans, which is why so many biracial Barbadians today have Irish surnames.
RIHANNA COUNTRY - HISTORY
The enslavement of the captives continued until 1834 when they were emancipated. By then the Irish captives and their descendents had assimilated into the Barbadian population, and the census of the 1881 did not identify any of its citizens as Irish.
Somewhere within this island's turbulent history lies the ancestry of Rihanna and her family. The exact details are not known — but with her green eyes and Afro-Guyanese-Irish background, her rich heritage continues to fascinate fans around the world.

BARBADOS BOOSTER
In January 2013 the power of Rihanna's association with her home country was harnessed by the Barbados Tourist Board when they persuaded its most famous export to feature in a promotional video aimed at boosting visitors to the island. The film shows her in various island locations exploring the best Barbados has to offer.
Ben Arogundade's book 'Black Beauty' is out now.
RIHANNA'S ORIGIN: Every detail of singer Rihanna's life is scrutinised by her legions of fans. Approximately 180,000 Internet users per year type the question, "Where is Rihanna from originally?" into their Google browsers each year. In fact, the music star is Barbadian, not Jamaican, American or British, as many believe.
The Creativity of Author, Designer & Publisher Ben Arogundade
Home
Books
About
Articles
RIHANNA'S HAPPY ISLAND: An image from the Barbados Tourist Board's 2013 promotional ads, featuring Rihanna, their most famous export, who was born in the parish of Saint Michael.
*RIHANNA AND BARBADOS ACCORDING TO GOOGLE SEARCH
15,000
The number of people worldwide who Google the question, "Where is Rihanna from originally?" each month.
4,500
The number of people worldwide who Google the phrase, "Rihanna Barbados" each month.
*All figures for "Rihanna And Barbados According to Google Search", supplied by Google. Stats include global totals for laptop and desktop computers and mobile devices.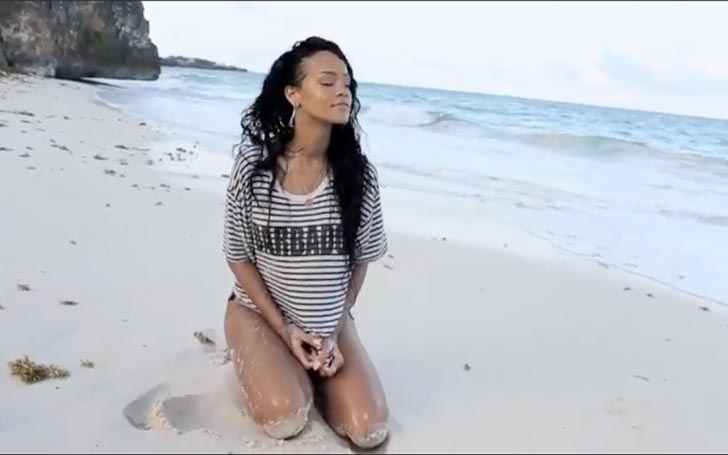 BEAUTY & TRUTH

Are Rihanna's Green Eyes Fake? 50,000 Are Asking.
SEX AND RACE
Rihanna's Link To An Older Man Named Oliver.