VINTAGE NICKI MINAJ INTERVIEW WITH JAY LENO
Where Is Nicki Minaj From Originally? Trinidad, Or Is She Indian, Asian, British, Jamaican? 340,000 Ask Google
RAPPER NICKI MINAJ's hair and beauty styles have blurred her ethnicity to such an extent that many are not sure where she is from, turning to Google for answers. By Ben Arogundade. [May.12.2016]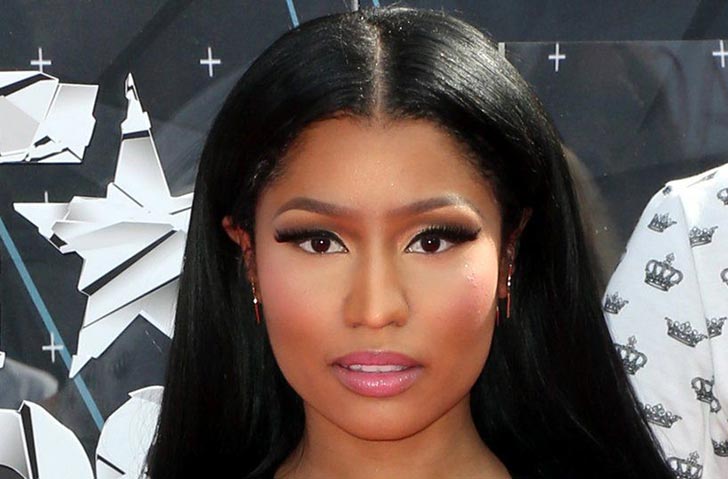 WHERE IS NICKI MINAJ FROM ORIGINALLY? Is she Indian, Asian, Jamaican, British or American? Thousands of her fans are not sure. 28,500 of them, to be precise. That is the global number who, according to Google's search stats, type the phrases, "Where is Nicki Minaj from?", and "Where was Nicki Minaj born?" into the Internet browsers of their computers and mobile devices every month in search of the facts about her origins. This amounts to approximately 340,000 queries about the rap music star per year. Further, these figures are on the increase as more and more fans around the world continue to subscribe to her music and colourful, shape-shifting image.
IS NICKI MINAJ INDIAN, ASIAN, JAMAICAN, BRITISH OR AMERICAN?
In reality, Minaj hails from Trinidad and Tobago. She was born on December 8, 1982 in Saint James, an area in the district known as the Port of Spain. Her parents are Trinidadians of African heritage, although her father, Robert Maraj, also possesses South Asian (Indian) ancestry. The surname "Maraj" is a Hindu word derived from the term "Maharaj", which means "great king".
NICKI COMES TO AMERICA
Minaj lived on the island with her grandmother until the age of five, after which she moved to America with her mother, settling in Queens, New York, where she was raised alongside her brothers Makiya and Jelani.
Minaj's South Asian heritage has an interesting history. Indians first arrived in Trinidad as contracted labourers in 1845. By 1917, 130,000 of them, mainly Hindu's, had settled there, with many of them forming relationships with the local Trinidadians. Nicki Minaj's heritage is but one of thousands of stories which trace their roots back to this era.
Ben Arogundade's book, 'Black Beauty', is out now.
WHERE IS SHE FROM? Rap music celebrity Nicki Minaj's hair and beauty styles blur her ethnicity. As a result, thousands of Internet users per month ask whether the rap star is Indian, Asian, British or American.
The Creativity of Author, Designer & Publisher Ben Arogundade
Home
Books
About
Articles
NICKI'S RETURN: In 2012 Nicki Minaj returned to Saint James, Trinidad and Tobago — where the rap star was born, and spent the first five years of her life — in order to shoot the video for her hit single, 'Pound The Alarm'.
*NICKI MINAJ NATIONALITY — THE STATS
2,100
The number of people worldwide who Google the questions, "Is Nicki Minaj Indian, Asian, Jamaican, American, British?", each month.
30,500
The number of people worldwide who Google the questions, "Where is Nicki Minaj from originally?", and "Where was Nicki Minaj born?", each month.
*All figures for "Nicki Minaj Nationality - The Stats", supplied by Google. Figures include global totals for laptop and desktop computers and mobile devices.
BLACK = UGLY
The Shocking History Of Black Beauty.
GOOGLE OVERLOAD
What Do 2.4m Fans Google About Nicki, Beyoncé & Rihanna?