ELIZABETH TAYLOR IN THE TRAILER FOR 1963 MOVIE 'CLEOPATRA'
Was Queen Cleopatra VII Black, White, Greek Or Egyptian? 70,000 Google Facts About Her Ethnicity & Nationality
Was queen Cleopatra VII black, white, Greek or Egyptian? The debate about her ethnicity and nationality has raged for centuries, but now new evidence finally provides some answers. By Ben Arogundade. [Apr.30.2016]
FOR CENTURIES, BLACKS, WHITES, Greeks and Egyptians have debated the ethnicity and nationality of Queen Cleopatra VII. Born in Alexandra in 69BC into a Macedonian Greek dynasty that ruled Egypt for three centuries, Cleopatra ascended to the throne at the age of 17. Three years later she seduced Julius Caesar, bearing him a son, Caesarion. After Caesar was assassinated she courted Mark Antony before committing suicide on his death — legend has it by placing an asp, a venomous serpent — to her breast.
CINEMA'S WHITE CLEOPATRA
Within Renaissance art Cleopatra has often been portrayed as a dark or olive-skinned woman, whereas within film she has traditionally been played by white actresses, including Vivien Leigh, Claudette Colbert, Sophia Loren and most famously Elizabeth Taylor.
Today's curiosity about Queen Cleopatra's ethnicity and nationality is played out online. Each month Google records and publishes the total number of Internet queries on a range of subjects, that people all over the world type into their browsers. For example, a total of approximately 3,000 people per month ask the question, "Was Cleopatra black?", each month. "Was Cleopatra Greek or Egyptian?" are other popular queries. The overall number of searches about the ancient queen's ethnicity and nationality tops over 70,000 per year.
CLEOPATRA: BLACK, WHITE, GREEK, EGYPTIAN?
But the question is, with such contrasting and conflicting representations of Queen Cleopatra within art and popular culture, are we any nearer to knowing the facts about the legendary ruler's true ethnicity and nationality? The latest evidence suggests we are.
In December 2008, Egyptologist and Senior Assistant Keeper at the Fitzwilliam Museum, Sally Ann Ashton, after a year of painstaking research, created a computer animated 3D image of queen Cleopatra's head, which she and her team forensically pieced together by interpreting a collection of images drawn from ancient artefacts, including a 2000-year-old ring dating back to Cleopatra's reign. The resulting graphic is of a striking young woman of mixed ethnicity, with African-style cornrowed hair — very different to the white Cleopatra portrayed by Elizabeth Taylor in the 1963 film. "She probably wasn't just completely European," Ashton confirmed. "You've got to remember that her family had actually lived in Egypt for 300 years by the time she came to power." Dr Ashton also stated that the images, which formed part of a British television documentary on Cleopatra, reflected the monarch's Greek heritage as well as her Egyptian upbringing.
CLEOPATRA'S REAL ETHNICITY AND NATIONALITY
In 2009 more interesting facts were uncovered which shed fresh light on queen Cleopatra's ethnicity and skin color. A research team headed by Hilke Thuer of the Austrian Academy of Sciences revealed evidence that the remains of the queen's sister, Princess Arsinoe, found in Ephesus, Turkey, indicated that her mother's skeleton was of African origin. "That Arsinoe had an African mother is a real sensation which leads to a new insight on Cleopatra's family and the relationship of the sisters Cleopatra and Arsinoe," Thuer revealed. His assertion that Cleopatra was part-African is also consistent with Ashton's 3-D model.
On this evidence it seems clear that queen Cleopatra VII was of Egyptian and Greek nationality. And so what should a modern movie Cleopatra look like, if indeed Hollywood were to caste ethnically in a new production? Perhaps Greek beauty Tonia Sotiropoulou, who starred opposite Daniel Craig in the James Bond movie, Skyfall; or maybe a multi-racial actress such as Kristin Kruek (who is of Dutch, Chinese and Jamaican ethnicity); or even Jessica Alba (of Mexican and European descent).
Ben Arogundade's book, 'Black Beauty', is out now.
ROYAL BEAUTY: British actress the late Elizabeth Taylor stars as Cleopatra in the 1963 movie. Was the real queen black, white, Greek or Egyptian? Facts about her ethnicity and nationality have been debated for centuries. New research findings shed new light on the biographical details of her life.
The Creativity of Author, Designer & Publisher Ben Arogundade
Home
Books
About
Articles
BLACK = UGLY
The Shocking History Of Black Beauty.
LIZ TAYLOR'S EYES
Why Are Elizabeth Taylor's Eyes The World's Most Googled?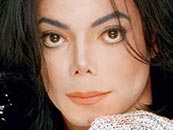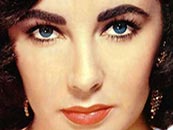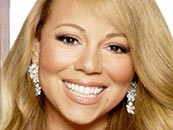 WAS CLEOPATRA BLACK, WHITE, GREEK, EGYPTIAN? Egyptologist Sally Ann Ashton's 3-D reconstruction of the queen's head suggests a light-skinned monarch of mixed ethnicity, complete with African-style cornrowed hair. Images by Foundry Studios.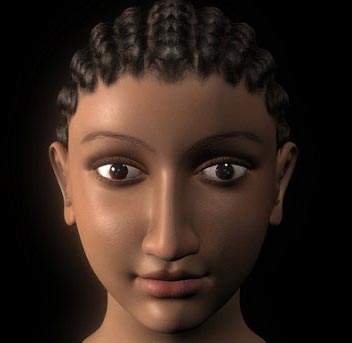 *QUEEN CLEOPATRA VII's ETHNICITY & NATIONALITY — THE STATS
200
The number of people worldwide who Google the question, "Was Cleopatra white?" each month.
3,000
The number of people worldwide who Google the question, "Was Cleopatra black?" each month.
600
The number of people worldwide who Google the question, "Was Cleopatra Egyptian?" each month.
500
The number of people worldwide who Google the question, "Was Cleopatra Greek?" each month.
*All figures for "Queen Cleopatra VII's Ethnicity & Nationality - The Stats", supplied by Google. Stats include global totals for laptop and desktop computers and mobile devices

.