RIHANNA 'VOGUE' COVER PHOTOSHOOT - NOV 2012
All Rihanna's Vogue Magazine Front Covers & Photoshoots - UK, US, French & Italian Editions
THE UNVEILING OF A NEW RIHANNA Vogue cover and photoshoot is an event in itself. What intrigues is the range of characters each one suggests, from tomboy to sophisticated lady. By Ben Arogundade. [Aug.15.2016]
RIHANNA'S RAPID RISE to success may be charted through her magazine photoshoots and cover appearances — no major covers before 2009, but now a best-selling fixture on the front of all the major international fashion glossies. Even Vogue, a magazine that has traditionally been allergic to putting women of colour on its covers, now regularly features the Barbadian music star within its UK and US editions, as well as Vogue Italia and Brazil.
RIHANNA'S VOGUE COVER CHARACTERS
The unveiling of each Rihanna photoshoot and Vogue cover has become an event in itself — something that augments the release of a new single — setting the blogs and gossip columns alight, as every aspect of the photoshoots and cover design are scrutinised.
Over the last six years, the creative teams from Vogue's various international editions have worked hard in creating the images of escapist glamour that keep Rihanna firmly in the spotlight. Each magazine front cover offers us a different persona — an imaginary character that feels like someone we know from a Hollywood movie. On the cover of the November 2011 edition of British Vogue, Rihanna appears as a sophisticated 50s blonde — a mixed race Marilyn Monroe, remixed for the 21st century. Then, on the cover of the December 2012 American edition of the magazine, she sported a pixie-style tomboy-ish haircut, suddenly looking like a mash-up of Winona Ryder, Liza Minelli and Peter Pan.
VOGUE ITALIA'S EXTREME COUTURE COVER
For their September 2009 cover, entitled Extreme Couture, Vogue Italia, known for being the most experimental edition within the Vogue magazine franchise, depicted the celebrity as a mischievous futuristic punk, spawned perhaps from Grace Jones, or Tim Burton's imagination. Meanwhile, the April 2011 cover of US Vogue depicted Rihanna in the more sedate guise of a kind of urban mermaid, cling-filmed into a see-through dress, and with wavy cascades of fire engine red hair concealing one eye.
RIHANNA'S PHOTOSHOOT VARIATIONS
Accompanying all this creativity, Rihanna's
array

of magazine front covers display more hair variations than any other Vogue cover star, perhaps with the exception of Lady Gaga. Styles veer from long to short, from blonde to brunette, from classic to contemporary.
Moving forward, the makeover possibilities for the next round of Rihanna Vogue covers do not fail to intrigue. She has been a redhead, a blonde, a pixie and a punk. What will they think of next?
Ben Arogundade's book 'Black Beauty' is out now.
ALL IN VOGUE: Rihanna is one of only a handful of non-white stars to regularly grace the cover of 'Vogue' magazine. A plethora of different hairstyles and outfits accompany each look, making the magazine covers resemble images from imaginary movies.
The Creativity of Author, Designer & Publisher Ben Arogundade
Home
Books
About
Articles
FASHION FACE: Rihanna's photoshoots and covers for 'Vogue' magazine show her in a number of guises, from pixie-style Tomboy to sophisticated 50s blonde: from the top; Rihanna makes the cover of British 'Vogue's March 2014 edition, followed by — 'Vogue' Brazil, May 2014; US 'Vogue', November 2012; British 'Vogue', November 2011; US 'Vogue', April 2011 and 'Vogue' Italia, September 2009.
*RIHANNA'S VOGUE MAGAZINE COVERS — THE STATS
9,000
The number of people worldwide who Google the phrase "Rihanna Vogue magazine" each month.
10,000
The number of people worldwide who Google the phrase "Rihanna photoshoot" each month.
*All figures for "Rihanna's Vogue Magazine Covers - The Stats", supplied by Google. Figures include global totals for laptop and desktop computers and mobile devices.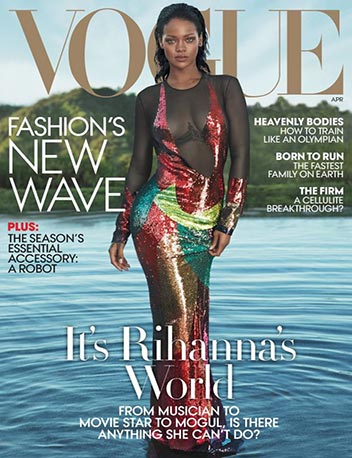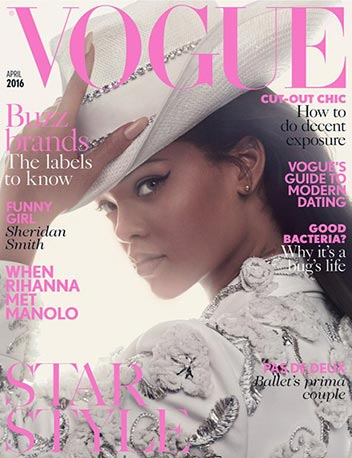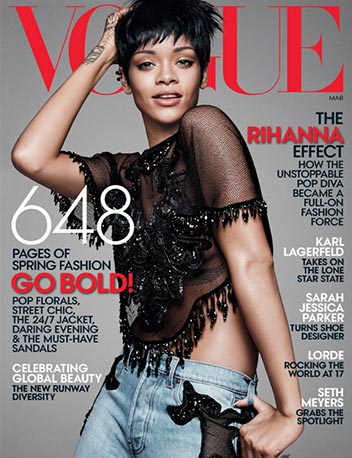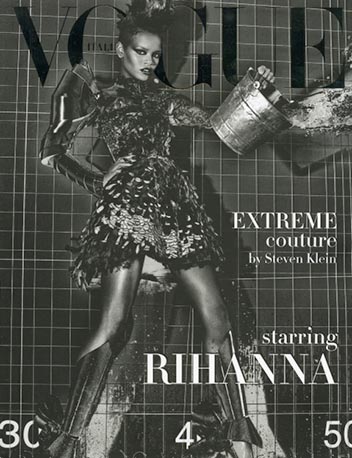 RIHANNA & DRUGS
Where Will Her Taste For Coke & Weed End?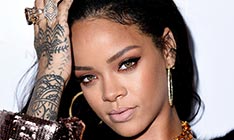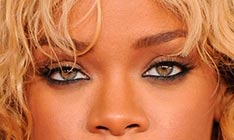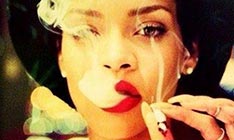 SEX & RACE
Rihanna's Link To An Older Man Named Oliver
BEAUTY & TRUTH

Are Rihanna's Green Eyes Fake? 50,000 Are Asking.
MUSIC MYSTERIES
What Do 1m Ask About Rihanna, Beyonce & Nicki Minaj?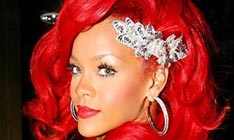 RED RIHANNA
Wow! Get The Whole Archive Of Rihanna's Red Hairstyles