The creativity of author, designer and publisher Ben Arogundade
Football & Faith: What Is Eden Hazard & Raheem Sterling's Religion? Are they Muslims? They Top Google's List Of Most Queries About The Religious Faith Of Today's Footballers
IN FOOTBALL, STATS CAN BE USED not only to track events on the pitch, but also off it. Google's search numbers reveal how interested fans are in the religions adopted by players such as Eden Hazard and Raheem Sterling .
By
Ben Arogundade
. November. 28, 2019.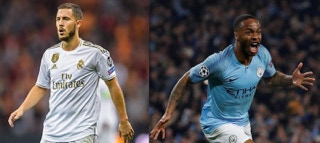 FAITH IN FOOTBALL: Real Madrid striker Eden Hazard and Manchester City forward Raheem Sterling draw more Google queries about their religion than any other top-flight footballers, including Lionel Messi and Ronaldo.
THE WORLD OF PROFESSIONAL FOOTBALL has become dominated by statistics. Everything a player does on the field of play is now tracked, measured and evaluated by coaches, TV pundits and fans alike. But while these numbers tell us everything we need to know about player performance, they tell us nothing about a player's cultural footprint off the pitch. Google's search statistics — in which the company records the queries of global Internet-users  — can now reveal previously hidden insights about the world's top players. 


FOOTBALL AND RELIGION - THE STATS
One area in which this has proved to be enlightening is football and religion. British clubs such as Fulham and Everton were founded by the church, and
the religious faith of football's biggest stars is now of global interest, with players gesturing to the heavens in prayer before kick-off, and then in thanks if they play well or score a goal. When they do, it is the higher power that gets the credit, not them. In recent years professional soccer has experienced a large influx of Muslim players, who have had a big impact on the game, both in terms of their abilities and the open expression of their religion.

Karim Benzema, Paul Pogba, Marouane Fellaini and Xherdan Shaqiri are amongst football's high profile Muslims. 


EDEN HAZARD & RELIGION
But is Eden Hazard who tops the list of the players with the highest number of queries about their religion. 1,600 football fans around the world Google the phrase 'Eden Hazard religion' each month. Their interest has been partly driven by the Belgian striker's recent move from Chelsea to Real Madrid, where the spotlight on him has intensified. Hazard is in fact a Muslim.


IS RAHEEM STERLING MUSLIM OR CHRISTIAN?
Next on the top 10 list is Manchester City's Raheem Sterling. At present, 1,000 fans Google the term, 'Raheem Sterling religion' each month. An additional 500 ask, 'Is Raheem Sterling Muslim?' Interest in his religious beliefs is not simply down to his popularity as a world-class player, but is also the result of the curiosity sparked by his Muslim-sounding first name. This also accounts for the presence of other top footballers in the list — Ajax's Hakim Ziyech (no. 7, with 140 monthly searches) and Liverpool's Mohamed Salah (no. 8, with 100 monthly searches). Sterling's religion is in fact not Muslim but Christian, and he grew up attending church with his mother.
"Every match day I put faith in God," he told

the Liverpool Echo

in 2013. "I pray at home the day and night before. I pray most days."


Surprisingly, queries about Hazard and Sterling's religion rank ahead of both Cristiano Ronaldo (no. 3, with 700 monthly searches)and Lionel Messi (no. 6, with 210 monthly searches). But they have been established in football for so long that most fans have already asked this question, whereas the younger players are very much still on the rise. See below for the full list of Google's top 10.




SECOND BEST: They may be the most talented and popular of the world's top football players, but Lionel Messi and Cristiano Ronaldo do not top the list of the most Googled footballers in terms of their religion. This accolade belongs to Real Madrid's Eden Hazard.
*GOOGLE'S TOP 10 SEARCH QUERIES ABOUT THE RELIGION OF FOOTBALLERS 


1. 'Eden Hazard religion' — 1,600
2. '
Raheem Sterling religion'

— 1,000
3.
'Cristiano Ronaldo religion

— 700
4. 'Mesut Ozil religion' — 350
5. 'Zlatan Ibrahimovic religion' — 260
6. 'Lionel Messi religion' — 210
7. 'Hakim Ziyech religion' — 140
8. 'Mohamed Salah religion' — 100
9. 'Granit Xhaka religion' — 100
10. 'Thierry Henry religion' — 90


*All figures for "Google's Top 10 Search Queries About The Religion Of Footballers", supplied by Google. Stats include global totals for laptop and desktop computers and mobile devices.
RELIGION & FOOTBALL - PROFILE OF RELIGIOUS STARS
WE HAVE BEEN SHOCKED and appalled by the murder of George Floyd in the US, and heartened by the resistance of the Black Lives Matter movement. In the aftermath, what matters most is not this painful past, but what we are going to do now. I am determined to transform my feelings of anger, pain and sadness into something positive and inclusive, which gathers and unifies citizens of all ethnicities who believe in fairness, equality and love. Hopefully that is you.


As a writer, to do my bit to assist, I am looking to raise funds to write, produce and publish an illustrated history book that narrates the story of society's prejudices against BAME people in the 21st century, and the subsequent work of Black Lives Matter. Each person who donates the book price or more (£45.00/$55.00) will receive a copy.


I have written before about the history of the black experience, in a book called Black Beauty published in 2000. It went on to become a bestseller, was honoured by the New York Public Library and become the subject of a three-part BBC documentary. My proposed new book is a "sequel" which continues this literary journey into this new century.


The title will become an important educational and historical document that will both inform the growing audience of people seeking to understand how we got here, and also help ensure that the aims and values of the Black Lives Matter movement continue to resonate. 


This is the most important time in the history of the struggle for racial equality since the death of Martin Luther King in 1968. Let us not allow it to pass without doing what we can. Donate now, and let's go!


Ben Arogundade
More About Football & Faith
Does the higher power really takes sides, or do they sit it out?