A BEAUTY APART: African American Albino fashion model Diandra Forrest is a force of nature. She was teased as a child for her unconventional beauty, but then modelling came calling. Approximately one person in 17,000 is born with albinism, while albino black people are even more rare.
SHE'S WHITE, AND YET BLACK. Her hair is naturally blonde, her skin and facial hair are milk white, her eyes are green, and her lips and nose are distinctly African. She is Diandra Forrest, albinism's role model, and the most startling supermodel of our time.
She was born in the Bronx, New York City, on October 22, 1989, to African American parents. She is not the only albino in the family — of her three siblings she also has a brother with the same condition.
ALBINO BLACK PEOPLE
The term "albino" comes from word "albus" — the Latin word for "white". Approximately one person in 17,000 is born with the condition, a rare genetic disorder characterised by a loss of pigment in the skin, hair and sometimes the eyes. Albino people lack melanin, the substance responsible for natural hair and skin colour. The condition affects people of all ethnicities globally.
AFRICAN AMERICAN ALBINO BEAUTY
As an albino child Diandra did not initially feel different from her darker-skinned family members. It only dawned on her when other children began to ask if she was adopted. As an albino growing up within a predominantly African American neighbourhood and school in which most of the inhabitants had dark skin, it was perhaps inevitable that there would be problems. There was name-calling and ridiculing from certain children — "white girl", and "Casper", were two that Diandra remembers. "I used to come home in tears," she told the BBC. "Growing up you get teased, and some people grow out of things, but you can't grow out of being an albino," she confessed in an ABC News interview.
Diandra became so traumatised by these incidents that her parents took her out of school and moved her to the New York Institute For Special Education, where she mixed with other people with albinism.
MODEL BIOGRAPHY
Things began to turn when, as she grew up, her life began to mirror that of the classic tale of the ugly duckling that becomes a swan. Young Diandra, once derided for her looks, was now being stopped regularly on the streets and subways of New York by strangers mesmerised by her beautiful albinism. One day while out shopping on 34th street, a young photographer, Shameer Khan, scouted her. "You're beautiful, you should model," he stated matter-of-factly.
After working on some test shots for two months, Diandra joined Elite Models NY. It was the first time an albino model had ever signed to a major model agency. Suddenly, the fact that she was different became her calling card. "I like that I am not a cookie cutter girl" she said. Since then she has moved to Krush Model Management NY.
DIANDRA DARES
Since then Diandra — who gave birth to her first child, Rain, on New Year's Eve 2015 — has become a regular fixture at fashion shows, and has worked for clients such as MAC, Gypsy Sport, Vivienne Westwood and Jean Paul Gaultier. Simultaneously the 26-year-old has become a spokesmodel for other albino black people, after learning of their mistreatment, particularly in East Africa, where local superstitions mean that many live in fear of abduction and mutilation. She works with an organization in Tanzania called Assisting Children in Need (ACN), fighting discrimination against the country's albino community.
Diandra's startling looks and her positive position as a role model for other albino people, black and white, is rapidly pushing her to the fore. In July 2015 she featured on the cover of Ebony magazine's black model special edition, while earlier that year the albino beauty was picked as the face of New York-based Ghanaian designer, Mimi Plange's fall collection. With wins like these, she is sure to go from strength to strength.

Ben Arogundade's book, 'Black Beauty', is out now.
THE BOLD BEAUTY of albino black model Diandra Forrest. "I think it's been well overdue for us to be looked at as the unique beauties that we are," she says. "A lot of the time in the entertainment business, people with albinism have been portrayed as something supernatural or odd or freakish looking and I love that we are being seen in a different light." Diandra's observation is gradually being reflected in the press. The September 2015 edition of African American lifestyle magazine, 'Ebony', featured Forrest (bottom right) alongside a host of other black models on the rise. Below: Albino beauty Diandra Forrest models for the spring/summer 2014 edition of 'Schön!' magazine.
*MODEL DIANDRA FORREST AND ALBINO BLACK PEOPLE ACCORDING TO GOOGLE SEARCH
600
The number of people worldwide who Google the phrase "Beautiful albino" each month.
10,000
The number of people worldwide who Google the phrase "Albino model" each month.
8,000
The number of people worldwide who Google Diandra Forrest's name each month.
27,000
The number of people worldwide who Google the phrase "Albino black people" each month.
*All figures for "Model Diandra Forrest And Albino Black People According To Google Search", supplied by Google. Stats include global totals for laptop and desktop computers and mobile devices.
WATCH: PROFILE OF BLACK ALBINO MODEL DIANDRA FORREST
She's Black, With White Skin, Green Eyes And Natural Blonde Hair: Meet Albino Fashion Model Diandra Forrest
DIANDRA FORREST IS UNIQUE amongst models. Her albinisim sets her apart, while posing questions about ethnicity and race. Is fashion really ready to accept beauty as diverse as hers? By Ben Arogundade.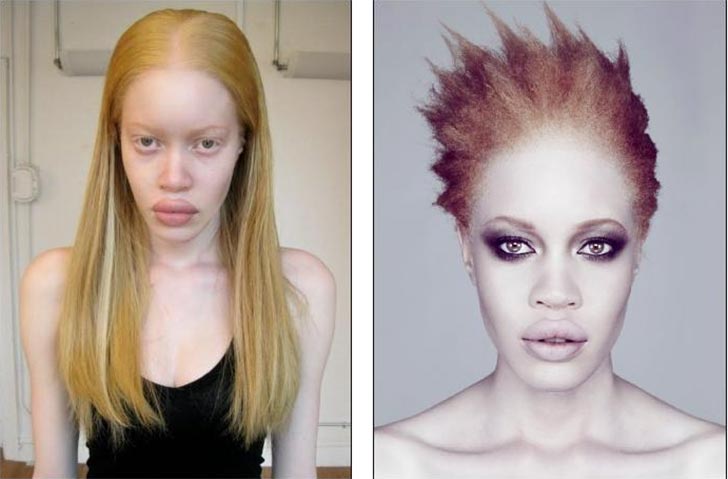 The Creativity of Author, Designer & Publisher Ben Arogundade
BLACK = UGLY
The Shocking History Of Black Beauty.
AFRICA BLUE
Black Skin, Blue Eyes? Find Out How It Happens.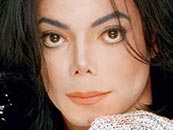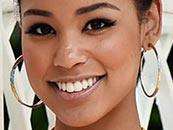 Home
Books
About
Articles