VINTAGE BEYONCÉ INTERVIEW WITH OPRAH
Beyoncé's Eyes: Are They Really A Natural Brown Color? Does She Wear Color Contacts? 24,000 Ask Google
BEYONCÉ'S EVERY DETAIL IS A CURIOSITY for her fans — even her eye color. This is one of dozens of trivia questions Google answers about the singer every year. By Ben Arogundade. [Mar.21.2016]
EACH MONTH, THOUSANDS of Beyoncé fans around the world type a range of celebrity trivia questions about the music star into their Google browsers. For example, the tech giant, which collates and publishes all its global searches, records approximately 4,400 monthly queries for the term "Beyoncé natural hair", while 8,100 Internet users Google the phrase, "Beyoncé boobs".
BEYONCÉ'S REAL EYES
Many of these search queries are about Beyoncé's eye color. As a result of her mixed ancestry — African-American, European and Native American — some fans assume that her natural eye color may be green, like Rihanna's or television celebrity Tyra Banks, or that she may be wearing color contact lenses to fake her real eye color.
Each month 2,000 Beyoncé fans Google the phrases, "Beyoncé eyes", and "Beyoncé real eye color" around the world. The total number of such queries about Beyoncé adds up to around 24,000 searches per year. So, what color are Beyoncé's eyes? In fact, the singer and wife of rapper Jay-Z's natural eye color is brown, in line with the majority of people of predominant African ancestry.
CELEBRITY REAL EYE COLOR
But Beyoncé is not alone in being the focus of online eye color curiosity. Fellow actress and music celebrity Vanessa Williams draws 1,000 queries a month about her naturally blue eyes, while Rihanna attracts 4,400 searches relating to her green eyes. Top of the list is Bollywood celebrity Aishwarya Rai with 6,000 queries per month, making hers the most Googled eyes in the world.
Ben Arogundade's book, 'Black Beauty', is out now.
EYE TO EYE: What color are Beyoncé's eyes? Many fans are unsure whether or not her real eye color is brown. Some believe that the singer and actress wears color contacts to change brown eyes to green or blue.
The Creativity of Author, Designer & Publisher Ben Arogundade
Home
Books
About
Articles
*BEYONCÉ'S EYE COLOR ACCORDING TO GOOGLE SEARCH
100
The number of people worldwide who Google the question, "Does Beyoncé wear contact lenses?" each month.
2,000
The number of people worldwide who Google the phrases, "Beyoncé eyes" and "Beyoncé eye color" each month.
*All figures for "Beyoncé's Eye Color According to Google Search", supplied by Google. Stats include global totals for laptop and desktop computers and mobile devices.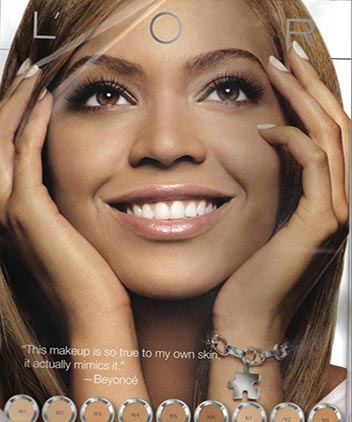 EXTREME FOCUS: Beyoncé's smouldering brown eyes provide the intense contact point in these cosmetics ads for L'Oreal Paris.
CAN A BLACK WOMAN HAVE GREEN EYES?
50,000 Are Not Sure If Rihanna's Are Real.
MORE ABOUT CELEBRITY EYE COLOR