THANDIE NEWTON'S TED TALK ON RACE, ETHNICITY, OTHERNESS
"My Skin Colour Wasn't Right": Actress Thandie Newton & Her Parents Battle With Race & Ethnicity
ACTRESS THANDIE NEWTON grew up as one of the only black kids in her town. But then the issues she faced around race and ethnicity ended up becoming the fuel that drove her acting. By Ben Arogundade.
DESPITE THE RAPIDLY changing racial demographics across the Western world, there are still biracial actors and entertainers who tell stories of difficult childhood's experiencing prejudice and racism. British actress Thandie Newton is one of them.
THANDIE NEWTON'S BIO, ETHNICITY, PARENTS
She was born Thandiwe Ajdewa Newton, in London on November 6, 1972. Her father, Nick Newton, of British nationality, is a laboratory technician and artist, and her mother Nyasha, a former district nurse, is a princess from the Shona tribe of Zimbabwe, southern Africa. Although Thandie was born in England, the family lived in Zimbabwe until she was three, when they returned to the UK.
RACE IN THE SOUTH
Newton, who is 43-year-old and 5ft 3in (1.6m) tall, has starred in the films Mission Impossible 2, Crash and Beloved. She grew up in Penzance, Cornwall, on Britain's south coast, where she and her brother Jamie were the only black children in the area. The family encountered racism from some of the locals, but the children were mostly shielded from it by their parents.
"The idea of us as a family was challenging to most people," said the mother-of-three at a recent TED conference. Her racially isolated upbringing, particularly at school, created issues around her ethnicity and identity. "From about the age of five I was aware that I didn't fit," she stated. "I was the black, atheist kid in the all-white Catholic school run by nuns. I was an anomaly….my skin colour wasn't right, my hair wasn't right, my history wasn't right. My self became defined by Otherness."
THANDIE'S FAMILY & NATIONALITY
Newton's identity problems compounded further on childhood visits back to Zimbabwe. "On one trip, when I was seven, this Zimbabwean boy said to me, 'Go back to England where you belong. You're white.' I remember having this complete identity crisis," Newton recalled. "I thought, 'Where am I supposed to be?' I'm too black for England; I'm too white here."
Newton's feelings of ethnic isolation even extended to the cosmetics counters of local stores, where brands only sold make-up for white skin. "What I started to think at that young age was, 'I'm the mistake that can't be provided for'", she revealed in Stella magazine.
THANDIE NEWTON, RACE & GOOGLE
Many of Thandie's fans around the world appear just as interested in matters to do with her background and ethnicity as she is. Google, which collates and records all monthly global Internet searches, reveals some interesting stats on the biracial actress. For example, approximately 320 Internet-users Google the terms, "Thandie Newton ethnicity" and "Thandie Newton race", each month, while 1,100 search the words, "Thandie Newton parents, family, mother, father".
ETHNICITY AND ANCESTRY IN FILM
Like many other contemporary black actresses with similar racial and ethnic backgrounds, such as Halle Berry and Paula Patton, it was partly this feeling of Otherness that attracted Newton to film and acting — a place where she could channel the ethnicity and identity issues of her childhood in a positive way. Traditionally, Hollywood has been keen to harness the biracial beauty of actresses like Newton within "crossover" film roles opposite white leads, such as Tom Cruise in the Mission Impossible movie series — a role later inherited by Paula Patton, who has a similar ethnicity and ancestry to Newton.
Ben Arogundade's book, 'Black Beauty', is out now.
STATE OF RACE: Thandie Newton, star of films 'Mission Impossible II', 'Crash' and 'Beloved', is one of Britain's foremost mixed race actresses. The film celebrity's parents, Nick and Nyasha, are of British and Zimbabwean nationality. Newton's ethnicity and ancestry caused problems while growing up in a racially isolated part of the British south coast in the 1970s.
The Creativity of Author, Designer & Publisher Ben Arogundade
Home
Books
About
Articles
MOTHER, FATHER, FAMILY: Thandie (left) and brother Jamie, with their mother Nyasha; Film star Newton with her parents. Her father Nick is British, while her mother is Zimbabwean.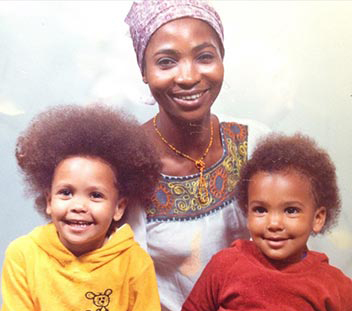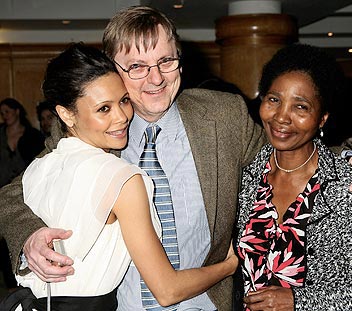 *THANDIE NEWTON: RACE, ETHNICITY, PARENTS - THE STATS
320
The number of people worldwide who Google the terms, "Thandie Newton ethnicity" and "Thandie Newton race", each month.
1,100
The number of people worldwide who Google the terms, "Thandie Newton parents, family, mother, father", each month.
*All figures for "Thandie Newton: Race, Ethnicity, Parents - The Stats", supplied by Google. Figures include global totals for laptop and desktop computers and mobile devices.
PAULA'S SECRET
What Do 100,000 Google About Paula Patton?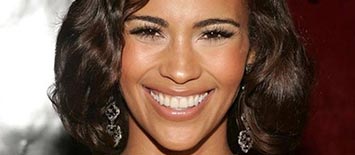 BLACK, INDIAN, LATIN, OTHER?
Is Zoe Saldana Black? Why Are 100,000 Not Sure?
MORE ABOUT BLACK FILM CELEBRITIES & RACE