TYRA BANKS TALKS PLASTIC SURGERY ON CNN'S 'PIERS MORGAN TONIGHT'
Celebrity Beauty: Has Tyra Banks Had Plastic Surgery Treatment, Breast Implants, A Nose Job? 70,000 Ask Google
SHE'S DENIED IT repeatedly, but still fans ask if Tyra Banks has had plastic surgery breast implants and a nose job. Regardless, she says she's happy to succumb in the future. By Ben Arogundade. [Apr.29.2020]
THE RUMOURS HAVE SHADOWED HER ever since she first began to be booked for major modelling assignments back in the early 1990s. Her breasts just seemed too large and too perfect to be real.
The now iconic February 1997 Sports Illustrated Swimsuit Edition cover — the first time the magazine had ever used a black cover model — enshrined the genetic perfection of the young supermodel's fierce body and supernatural frontage.
TYRA BANKS PLASTIC SURGERY? THE TRUTH
Simultaneously, her modelling contracts for clients such as Victoria's Secret, for whom she often wore gravity-defying push-up bras, further enhanced the seeming impossibility that her breasts could actually be natural. And so, fuelled virally by the Internet, the speculation that Tyra had undergone plastic surgery breast implants began to swell. "I'm tired of this rumor," the 42-year-old supermodel and presenter of America's Next Top Model said wearily in September 2005 on her TV programme, The Tyra Banks Show. "It's something that's followed me forever."
TYRA's BREAST IMPLANTS REBUFF
Persistent rumours led Banks to submit to a live televised sonogram (a medical imaging examination) on her show, to prove that she had not had plastic surgery breast implants. First, she asked the men in the audience to leave the studio — then, wearing only a short bathrobe, she submitted to an examination of her boobs by plastic surgeon Dr. Garth Fisher, of ABC's Extreme Makeover TV show. He performed a touch test and then a sonogram. After several minutes, during which time Banks's breasts were blacked out onscreen, he concluded that, "Tyra Banks has natural breasts; there are no implants."
Despite the fact that she did not have fake breasts, Banks was quick to qualify her own views on breast implant plastic surgery. "By no means am I saying a breast implant is a bad thing, but it's not a choice that I made," the ex-fashion model said. Her positive stance on cosmetic surgery breast implants perhaps comes as no surprise when one considers that Banks's beauty regime already incorporates "falsies" — "I got fake hair y'all," she proclaimed. "I got fake eyelashes."
TYRA BANKS'S NOSE JOB TOO?
But despite Tyra Banks's best efforts, the rumours that she'd had a boob job would not subside. Indeed, by 2011, to add to this, there were also claims from websites and blogs that she had undergone a nose job too, complete with before-and-after pictures.
Suddenly, Tyra was on TV again refuting the plastic surgery claims, this time as a guest on CNN's Piers Morgan Tonight, on April 6 2011. "It was a very big rumor that I had breast implants," Banks began. "On the cover of these magazines when I was very young…they were huge. I'll admit that they did look fake, but they weren't!"
"Would you ever have a bit of nip and tuck, if the time came?" asked Morgan.
"Most definitely," replied Tyra. "No hesitation."
PLASTIC SURGERY 'FANTASTIC'
In August 2012 she was even more unequivocal about her views on cosmetic surgery: "...absolutely fantastic" she called the procedure during an interview with Yahoo! Singapore. "I hate when models say 'Oh, plastic surgery is just a wrong thing.'" She re-itered her willingness to go under the knife herself in the future, although she wouldn't be drawn on when that would be.
"I'm very lucky," Banks stated. "Black people and Asian people have similar (strong) skin…But if one day I have wrinkles and I don't like it, I don't know if I'll cut myself but maybe… a little Botox, fillers?"
GOOGLE'S COUNT ON TYRA BANKS
Ultimately, the key question is, how convincing has Tyra been in persuading the world that she has not had breast implant plastic surgery, a nose job, or anything else? I turned to Google search for some answers. The tech giant collates and publishes all their global search results each month. Currently, approximately 1,000 people per month Google the phrase, "Tyra Banks plastic surgery", while 200 type, "Tyra Banks breast implants", and "Tyra Banks boob job". A more interesting statistic are the 1,900 people who Google the phrase, "Tyra Banks nose job" each month. This far outweighs the numbers for her breasts, suggesting that today, this is more of a fascination for her fans than whether or not she has had a boob job. This may be due to the fact that rhinoplasty for black people brings with it connotations to do with race and European beauty values, which is always an incendiary topic.
TYRA CONFESSES
in her 2018 memoir, Perfect Is Boring, Banks finally confessed that she in fact has had plastic surgery — a nose job — early in her career. "I had bones in my nose that were growing and itching," Banks told People magazine. "I could breathe fine, but I added cosmetic surgery. I admit it! I feel I have a responsibility to tell the truth."
COSMETIC QUESTION: Above left; Celebrity TV star and ex-fashion model Tyra Banks makes the cover of the February 1997 issue of 'Sports Illustrated Swimsuit Edition'. The photograph displays the supernatural cleavage that launched a thousand rumours that she'd had plastic surgery breast implants. Speculation about this, and the TV star's alleged nose job, have galvanised 66,000 queries a year about her from Google search.
The Creativity of Author, Designer & Publisher Ben Arogundade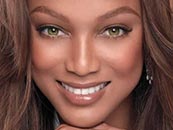 TYRA TIME: Before-and-after photographs of the face of TV celebrity Tyra Banks, have been used to suggest that the ex-fashion model, aged 42, may have had plastic surgery on her nose — a charge that Banks herself denies.
*TYRA BANKS: PLASTIC SURGERY, BREAST IMPLANTS, NOSE JOB — THE STATS
200
The number of people worldwide who Google the phrases, "Tyra Banks breast implants", and "Tyra Banks boob job", each month.
1,000
The number of people worldwide who Google the phrase, "Tyra Banks plastic surgery" each month.
1,900
The number of people worldwide who Google the phrase, "Tyra Banks nose job" each month.
*All figures for "Tyra Banks: Plastic Surgery, Breast Implants, Nose Job", supplied by Google. Stats include global totals for laptop and desktop computers and mobile devices.