Fun Facts About Rihanna : The Celebrity With Most Googled Eyes In Music - 100,000 Search Queries
THE FACTS ARE, THERE ARE more online searches about recording artist Rihanna's green eyes than there are for any other music celebrity. Find out why. By Ben Arogundade. [Feb.10.2016]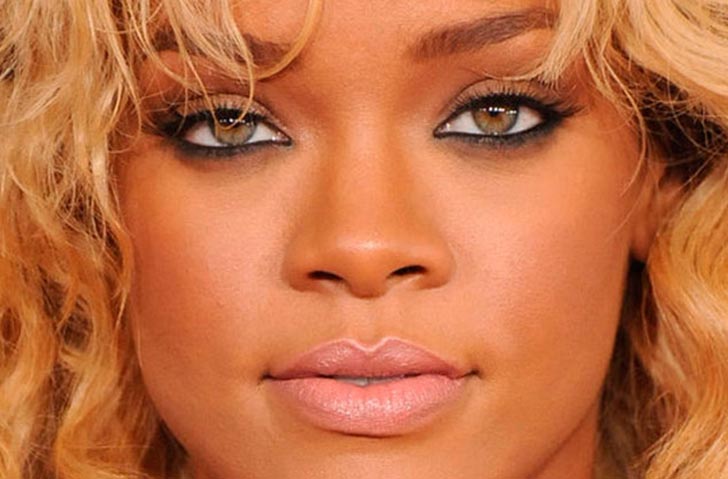 100,000. THAT IS THE approximate number of fans globally who type a range of online search queries about the music star's eyes into their Google browsers each year. This is more than any other living celebrity — except for those of Bollywood actress Aishwarya Rai.
FACTS ABOUT RIHANNA'S EYES
The ocular facts about Rihanna are that Google records 3,600 global monthly searches for the term "Rihanna eyes". This is more than Megan Fox (2,400), Lady Gaga (1,300) and Katy Perry (1,900). Rihanna even has more searches than the iconic Sharbat Gula, (400) the Afghan refugee girl whose mesmeric green eyes became the subject of a world famous photograph by Steve McCurry, first published in National Geographic magazine in 1985.
BIG NUMBERS, BIG EYES
So, why are the facts about Rihanna's eyes so popular? The answer is two-fold. Firstly, she is one of the biggest stars in the world today in terms of Google searches of celebrity names. The 32 year old singer pulls 6.1 million global searches per month, according to Google's latest figures. That's more than Beyoncé, Jay-Z, Lady Gaga or even Barack Obama. Only Justin Bieber and Taylor Swift's numbers are bigger. Inevitably, as fans scrutinise every detail of a celebrity's life, it stands to reason that popular names like Rihanna will also rank the highest for details such as eyes or hairstyles.
EYES AND AFRICA
The second reason that Rihanna's eyes are the world's most popular in music is to do with race. Many of the recording artist's fans are unsure how a person of African ancestry can possess eyes that are not the more ubiquitous natural brown color. This is well illustrated by the fact that every month approximately 2,000 people around the world ask Google, "Can black people have blue eyes?"
Many of Rihanna's online fans assume that her real eye color — green — is actually fake, and that she wears color contact lenses to turn brown eyes to green. Every year 7,000 fans Google questions about
it

.

This

perhaps should come as no surprise when one considers both the age of Rihanna's core fan-base, and the fact that black singers and models, from Nicki Minaj to Naomi Campbell, do routinely wear color contact lenses in videos and photo-shoots.
HOW RIHANNA'S GREEN EYES HAPPEN
The fact is, green and blue colored eyes do occur naturally within people of African ancestry. Genetically, there are two reasons that explain why:
First, it can be the result of a rare form of genetic defect in which a person's primary eye color genes mutate, creating another pigment. Ocular albinism is one such form that takes place within eyes that do not make melanin — the substance that gives skin, hair and eyes their natural color. A person's natural eye color is determined by how much pigment they create within special cells called melanocytes. Someone with no pigment production for example, will have blue eyes, whereas someone with a little will have green eyes, and someone with high concentrations will have brown eyes.
The second, and more populous reason for green or blue eyes occurs when a person of African heritage has Caucasian relatives on both sides of their family who carry the gene for that particular eye color. (Actress Vanessa Williams
and

model and TV presenter Tyra Banks are two examples). In effect, this means that a couple who both have brown eyes for example, could conceive a child whose eyes are blue or green, as long as this gene exists somewhere within their heritage.
BLACK PLUS WHITE EQUALS GREEN
In Rihanna's case, her eye color is the result of the green-eyed gene being carried through the Caucasian ancestry within her family, via its roots within colonialism and slavery. Rihanna's father, Ronald Fenty, is a Barbadian of Afro-Irish heritage — the Irish came to Barbados in 1648 — while her mother Monica is Afro-Guyanese. Guyana, off the northern coast of South America, has been colonised by Europeans since 1616.
But despite the impressive search numbers for Rihanna's eyes, hers are not the popular eyes overall. The facts are, there is one person who beats Rihanna hands down in the eye popularity stakes — and that is the late actress Elizabeth Taylor, whose incredible, and rare,
dark blue

eyes still fascinate her legions of fans. A staggering 22,000 online fans Google information about them each month.
GREEN EYED GIRL: The facts about Rihanna's eyes are that they are the subject of more Internet searches than any other music celebrity. Google records approximately 100,000 queries a year, covering a variety of questions about her eye color, and whether or not she wears color contact lenses.
The Creativity of Author, Designer & Publisher Ben Arogundade
IN THE EYES: Afghan refugee Sharbat Gula shot to fame in 1985 after this photograph of her, taken by Steve McCurry, was published in National Geographic. Today, the term "Sharbat Gula eyes" is only Googled 400 times per month, compared to 3,600 searches for "Rihanna eyes". The late Elizabeth Taylor had dark blue-colored eyes, which are extremely rare. Hers are the most Googled eyes ever, with over 22,000 monthly searches by fans around the world.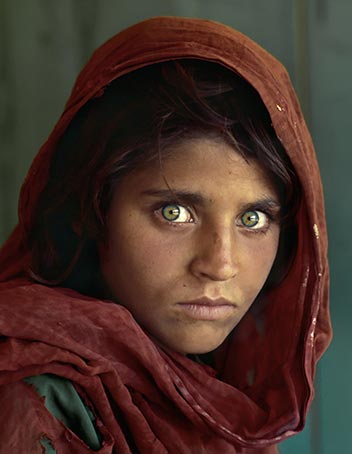 *RIHANNA'S GREEN EYES - THE STATS
200
The number of people worldwide who Google the
question,

"Does Rihanna wear contacts?" each month.
2,400
The number of people worldwide who Google the phrase, "Rihanna eye color" each month.
3,600
The number of people worldwide who Google the phrase, "Rihanna eyes" each month.
90,000
The total number of
annual Google searches about

Rihanna eyes

.
*All figures for "Rihanna's Green Eyes - The Stats", supplied by Google. Stats include global totals for laptop and desktop computers and mobile devices.
MORE ABOUT CELEBRITY BEAUTY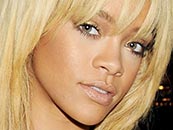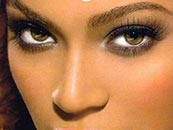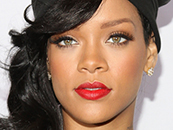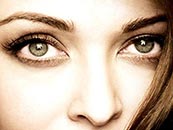 RIHANNA'S GREEN EYES IN CLOSE UP