ACTRESS GENEVIEVE NNAJI — FACTFILE
Born: Mbaise, Nigeria
Age: 37
Movies: Ijé, Mirror Boy, Half of a Yellow Sun, Road to Yesterday.
Famous phrase: 'Nollywood's Julia Roberts'
Movie icons: Angelina Jolie, Johnny Depp
Awards: African Movie Academy Award, Best Actress, 2005
Role models: Her parents.
Twitter followers: 1m
Facebook likes: 2m
CNN INTERVIEW PROFILE ON ACTRESS GENEVIEVE NNAJI
Film Biography: Nollywood Trivia Ignites As 660k Google Actress Genevieve Nnaji's Movies, Husband, Daughter
NIGERIA'S NOLLYWOOD is the world's biggest producer of English-language films, and at its forefront are actresses like Genevieve Nnaji, whose lives are subject to frenzied Googling by fans. By Ben Arogundade.
THE WORLD'S BIGGEST English-language film industry is not Hollywood or Bollywood, but Nollywood. The West African movie machine employs over a million people, churns out approximately 2,500 movies a year, most of which go direct to television and DVD across the African continent.
The Nollywood film formula is very simple — combining melodrama, music and religion into a series of morality tales that key into different aspects of contemporary African life. Alongside this, Nollywood is producing its own crop of homegrown Halle Berry's and Denzel Washington's to serve this expanding new market, adopting the same blueprint as India's Bollywood film industry. One of its biggest and best loved stars is Nigerian beauty Genevieve Nnaji.
GENEVIEVE NNAJI: BIOGRAPHY
Winner of the 2005 African Movie Academy Award for Best Actress, the 37-year-old actress was born on May 3, 1979 in Mbaise, Imo State, Nigeria. She is the fourth of eight children born into a strict middle class Catholic family. Her father is a retired banker, and her mother a schoolteacher.
Nnaji was educated at the Methodist Girls High School, in Yaba, and later at the University of Lagos, where she studied creative arts. She was a child actor who cut her teeth in the popular African soap, Ripples, at the age of eight, before graduating into film in 1998, aged 19. Initially she fitted her film roles into her spare time between studies.
NNAJI THE NIGERIAN JULIA ROBERTS
Since then Nnaji — who has a daughter, Chimebuka, by a father she refuses to name — has starred in more than 80 Nollywood films, rising to become the poster girl for the genre, and one of the continents most talked about film celebrities. In 2013 she starred opposite Thandie Newton and Chiwetel Ejiofor in the film adaptation of Chimamanda Ngozi Adichie's best-selling novel, Half Of A Yellow Sun.
Nnaji's success has brought with it intense scrutiny from her fanbase, and she is mobbed wherever she goes in Lagos. The level of interest about the Nigerian celebrity can be measured online via Google search, as the tech giant collates and publishes all its global search figures each month. In Nnaji's case, the numbers are quite revealing — for example, 3,600 people Google the phrase, "Genevieve Nnaji married", each month, while the same number search, "Chimebuka Nnaji". The total number of queries about her biography, family and personal life add up to over 660,000 per year.
DARK-SKINNED BEAUTY
Genevieve — who is very dark-skinned — has also become an important beauty role model in a country that often favours lighter tones, and which has been a major consumer of skin-lightening creams. "Forget the skin," Nnaji stated in an interview with Nigeriafilms.com. "I think darker-skinned women should really focus on the inner beauty and not allow somebody else's complex or insecurities to overshadow their confidence."
Nnaji's success has now placed her on the international movie map. Oprah dubbed her 'Nollywood's Julia Roberts' — although it is actually Hollywood actress Angelina Jolie who is Nnaji's film idol. "I am a huge fan," she told CNN. Despite the fact that she has starred in so many Nollywood films so far, Nnaji — who makes a reported $6,500 per movie — has not taken her success for granted. "For a long time I kept thinking, OK, this is just temporary, definitely I'm going to go back to school and read law, English or something." Fortunately for Nollywood film fans, it looks like Nnaji is here to stay.
Ben Arogundade's book, 'Black Beauty', is out now.
STAR OF AFRICA: Nigerian actress Genevieve Nnaji, dubbed Nollywood's Juila Roberts, is one the African movie industry's biggest stars. Her fame in Nigeria is such that she is now mobbed wherever she goes. Online, Google records 660,000 monthly searches for information about her family, daughter, marital status and other biographical topics.
The Creativity of Author, Designer & Publisher Ben Arogundade
Home
Books
About
Articles
MORE ABOUT BLACK CELEBRITIES
NOLLYWOOD LIFE: Nigerian actress Genevieve Nnaji and her father at home in Lagos, Nigeria; Nnaji with her 20-year-old daughter Chimebuka; Genevieve graces the cover of the December 20, 2015 edition of 'This Day's' magazine supplement, 'Style'. For young Nigerian women Nnaji has become a role model for darker-skinned beauty.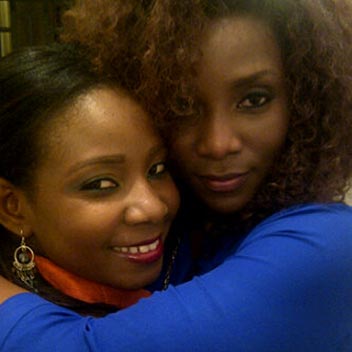 *GENEVIEVE NNAJI'S BIOGRAPHY — THE STATS
1,300
The number of people worldwide who Google the phrase, "Genevieve Nnaji movies", each month.
3,600
The number of people worldwide who Google the phrase, "Genevieve Nnaji married", each month.
50,000
The number of people worldwide who Google Genevieve Nnaji's name each month.
*All figures for "Genevieve Nnaji's Biography - The Stats", supplied by Google. Figures include global totals for laptop and desktop computers and mobile devices.