WATCH VOGUE INSTAGIRL IMAAN HAMMAM
1,000s Google Fashion Model Imaan Hammam's Ethnicity, Nationality, Religion & Parents Race
VOGUE MODEL Imaan Hammam intrigues. Is she of Indian or African ethnicity? What is her nationality and her religious beliefs? Get the facts about fashion's most beguiling beauty. By Ben Arogundade. [Mar.18.2016]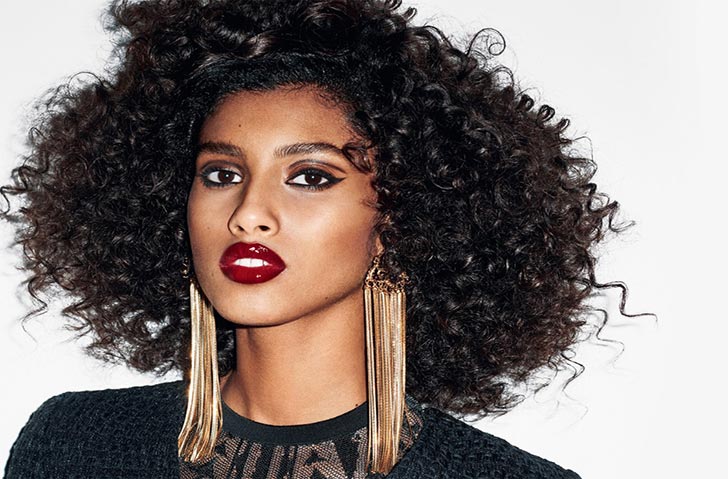 SHE WAS SCOUTED at a bus station at as a 14-year-old schoolgirl. Five years later she had appeared on the catwalk for Jean Paul Gaultier and Givenchy, modeled for Victoria's Secret, appeared in her first movie and featured in the international editions of Vogue and Interview magazine. She is Imaan Hammam, the young supermodel taking the fashion industry by storm.
MODEL IMAAN ON GOOGLE
She is part of the expanding racial and aesthetic diversity that is currently seeping into mainstream fashion. Her thick eyebrows, tanned complexion, bold lips and dark brown corkscrew curls give her a kind of "world beauty" that fans and onlookers are finding hard to place. Is she Indian, Iranian, Somalian? Where was she born? What is her religion, nationality and parents racial background? How old is she, how tall is she, and does she have a boyfriend? These are just some of the many questions curious fans ask about her online. In fact, Google records a total of 18,000 global monthly searches for her name alone.
IMAAN HAMMAM: ETHNICITY, RACE, RELIGION, NATIONALITY
Here are the facts. Imaan Hammam was born on October 5, 1996 in east Amsterdam, Holland, to a Moroccan mother and an Egyptian father. One of six siblings, her mother is from the south of the country, where the people are darker-skinned, while her grandmother grew up in the Sahara Desert. "Sometimes people call me Middle Eastern, and I'm like, 'No, I'm black,'" she told Teen Vogue. "I am proud of my culture, proud of who made me, proud to be here."
MUSLIM & MODELLING
20-year-old Imaan (pronounced Ee-men), who now lives in Williamburg, New York, is 5' 10" tall (1.79m), speaks three languages, and is also a Muslim. In her 2014 film debut, in a Dutch production called Nude Area, a body double was used for the scenes of nudity for her character, on account of her religious beliefs. "I'm Muslim and don't find it appropriate to show my body in that way," she told Dutch Vogue in 2013. "It's sometimes hard for me to know where my boundaries are but fortunately my parents are very supportive and let me figure this out myself."
HALIMA'S HIJAB
Hamman is one of a small number of openly Muslim models who are breaking into the world of fashion modelling, partly as a reaction by liberal fashion labels against attacks on Muslims and Islam. During the Autumn Winter 2017 fashion shows in Milan, Somali-American model Halima Aden became its unlikely star when she appeared on the runway for Max Mara and Alberta Ferretti. The Kenyan-born Muslim, who has also modelled for rapper Kanye West's label, appeared wearing a hijab along with the designer's clothes. "Max Mara empowers women from all geographical areas, all creeds, all philosophies," said creative director Ian Griffiths.
Nevertheless, the cold realities of the fashion business often mean that young models end up adapting to what the industry wants, despite their religion. Since Imaan Hammam's comments about taking off her clothes, she has appeared in underwear for both Victoria's Secret and for 'Love' magazine. The challenge for fashion's young beauties like her will be how to keep their core principles while navigating the rocky road to success.
Ben Arogundade's book, 'Black Beauty', is out now.
BLURRED BEAUTY: 'Vogue' model Imaan Hammam is one of fashion's brightest stars. Her ambiguous beauty sends 1,000s of fans to Google in search of answers about her ethnicity, nationality and parents race, as well as her religious beliefs.
The Creativity of Author, Designer & Publisher Ben Arogundade
Home
Books
About
Articles
MORE ABOUT FASHION MODELS
IMAAN'S FRONT
:
Muslim fashion model Imaan Hammam makes the front covers of 'Vogue' Holland's September 2015 edition, and the December 2015 edition of 'Interview' Germany.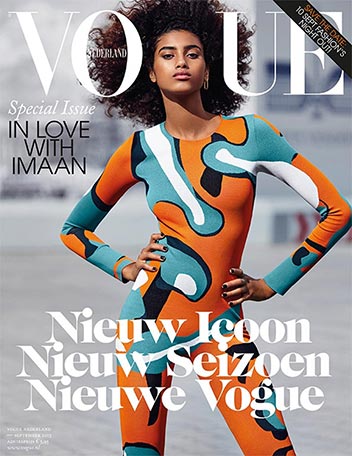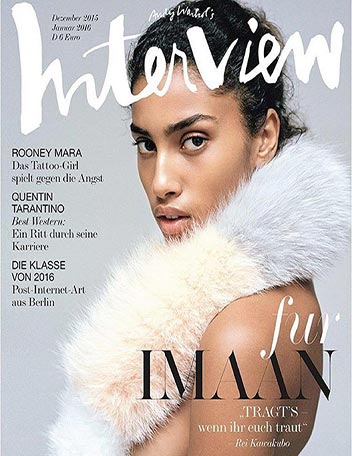 THE KENDALL FACTOR
What Do Two Million Want To Know About Kendall Jenner's Body?