REPORT ON CONTROVERSIAL 'NEW YORKER' OBAMA COVER - 2008
What Religion Is Barack Obama? Muslim? Christian? 500,000 Are Not Sure Of The Facts
IS BARACK OBAMA MUSLIM or Christian? It may seem like an old question, previously answered, but half a million people per year still ask Google for the facts. By Ben Arogundade. [May.28.2016]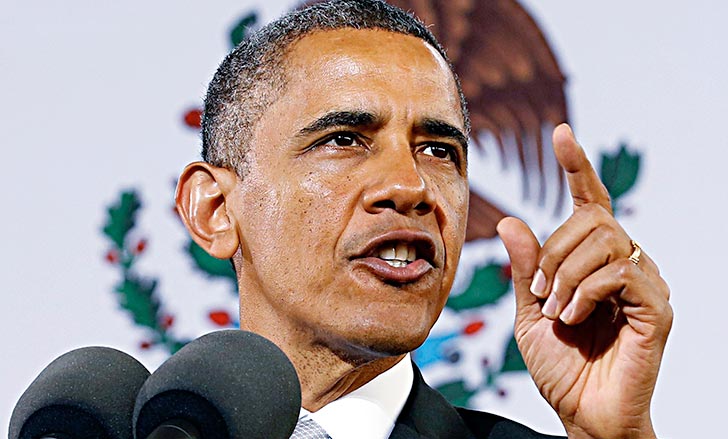 IT'S THE QUESTION THAT will not go away — the one that asks if Barack Obama is Muslim. It began during the build up to the 2008 presidential election, as Obama's popularity grew and people began scrutinising the Democratic candidates background. First, there was the assumption that a person with a non-Anglo-Saxon name like 'Barack', and with the middle name, 'Hussein', could not be a Christian. This was a fair assumption to people to make, especially considering that the name 'Barack' is common amongst Kenyan Muslims, and that Obama's late father was also of the Muslim faith. Added to this was the fact that his mother married an Indonesian Muslim, who kept copies of the Quran in the family home, and young Barack attended school in Indonesia — the world's largest Muslim country — alongside Muslim classmates.
WHAT RELIGION IS BARACK OBAMA? THE FACTS
Obama's opponents used this background as political capital, stating that he was indeed a Muslim, in an attempt to exploit the atmosphere of post-911 Islamophobia. These rumours reached their height on the morning of July 13, 2008, when the cover of The New Yorker magazine made news headlines across America. Its front cover featured a cartoon of Obama and wife Michelle, entitled "The Politics of Fear". The image depicted Obama as a Muslim terrorist in the Oval Office, and his wife as a 1960s-style black nationalist, dressed in Black-Panther-style military fatigues, complete with an AK-47 slung over her shoulder. The pair exchange a celebratory "fist-bump" while an American flag burns in the fireplace beneath a portrait of Osama Bin Laden hanging on the wall.
The cover caused outrage for its depiction of Obama as a Muslim terrorist, and many failed to see the intended satire of the piece. So much so that editor David Remnick was forced to come out in its defence. "What I think it does is hold up a mirror to the prejudice and dark imaginings about Barack Obama," he stated. "It combines a number of images that have been propagated."
RELIGIOUS UNTRUTHS
In the run up to the 2008 election such untruths were indeed circulating. A Newsweek poll in July of that year stated that 12 per cent of voters surveyed believed, incorrectly, that Obama was sworn in as a US Senator using a Quran, while 26 per cent believed he was raised as a Muslim, and 39 per cent believed he'd attended an Islamic school as a child. Added to this was a comment by conservative "shock jock" Rush Limbaugh, who let it slip in September 2008 that he occasionally got "confused" between Obama and Osama.
"I do think that in attempting to satirize something they [The New Yorker] probably fuelled some misconceptions about me instead," Obama concluded.
Things did not end here. In August 2009, after Obama had been elected, New York magazine released a cover featuring his face daubed with a series of words such as "Hitler", "Nazi" and "Muslim". The cover — voted the most controversial of 2009 by the American Society of Magazine Editors — was criticised for its depiction of the president, but magazine's editors maintained that the words used reflected, not their views, but those of a section of Obama's most rabid dissenters.
IS BARACK OBAMA A MUSLIM OR CHRISTIAN?
As recently as 2016, there were still right-wing elements that maintained that Obama is Muslim. Tony Senecal, 74-year-old former aide to businessman and Republican candidate Donald Trump, hit the news headlines after he stated on Facebook, that Obama is a Muslim, and said Muslims are "invading our country."
The confusion that many feel about Obama's religion — he is actually Christian — is played out online, where each month Google collates and publishes details of all the major Internet searches on its platform. For example, currently, approximately 7,100 people Google the question, "What religion is Barack Obama?" each month. A further 34,000 ask, "Is Barack Obama a Muslim?" Bizarrely, even a phrase such as "Obama anti-Christ", pulls 5,500 monthly searches from around the globe. Overall, the range of online queries about whether or not Obama is Muslim or Christian adds up to over 500,000 searches per year.
It all goes to show, that once people believe something about a public figure, it becomes very difficult, if not impossible, to dislodge it — even for someone as powerful as the president of the United States.
MUSLIM OR CHRISTIAN? Despite the fact that Barack Obama has stated that he is a Christian, many are unsure, or simply don't believe the facts. Google records 500,000 searches per year relating to the statesman's religious beliefs.
The Creativity of Author, Designer & Publisher Ben Arogundade
Home
Books
About
Articles
COVER CONTROVERSY: 'The New Yorker' cover of July 21, 2008, and the cover of '
New York' magazine's September 28, 2009 edition. Both associated Barack Obama with being Muslim. They were actually intended to illustrate untruths that people held about the president's religion.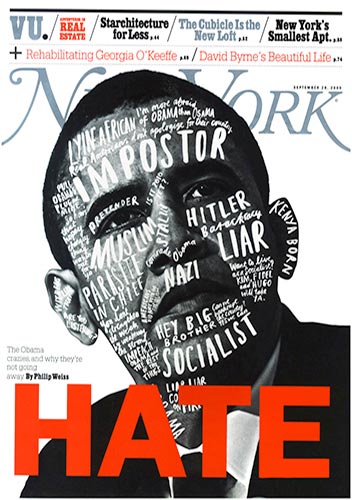 *IS BARACK OBAMA MUSLIM OR CHRISTIAN? THE STATS
7,100
The number of people worldwide who Google the question, "What religion is Barack Obama?" each month.
34,000
The number of people worldwide who Google the question, "Is Barack Obama a Muslim?" each month.
*All figures for, "Is Barack Obama Muslim Or Christian? The Stats", supplied by Google. Figures include global totals for laptop and desktop computers and mobile devices.
OBAMA & IDENTITY
Is Barack Obama Black Or Mixed Race? Not Everybody Agrees.
MORE ABOUT RELIGION & RACE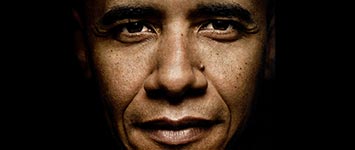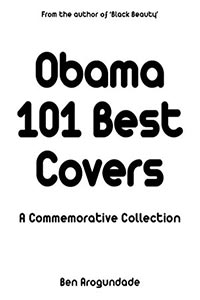 Title: 'Obama: 101 Best Covers - The Story Of His Presidency & Legacy In Photos, Images & Comment'
Category: Photography/biography/political figures/African American
Author: Ben Arogundade
Publisher: White Labels Books
ISBN:
978-0956939456