MODEL IMAN VIDEO BIOGRAPHY
Famous African Fashion Models: Iman Abdulmajid Bowie's Turbulent Rise To The Top
IMAN ABDULMAJID BOWIE WAS the first African model to make it into the fashion mainstream back in 1975. But alongside the rejoicing, not everybody was happy with her inclusion. By Ben Arogundade. [Aug.26.2016]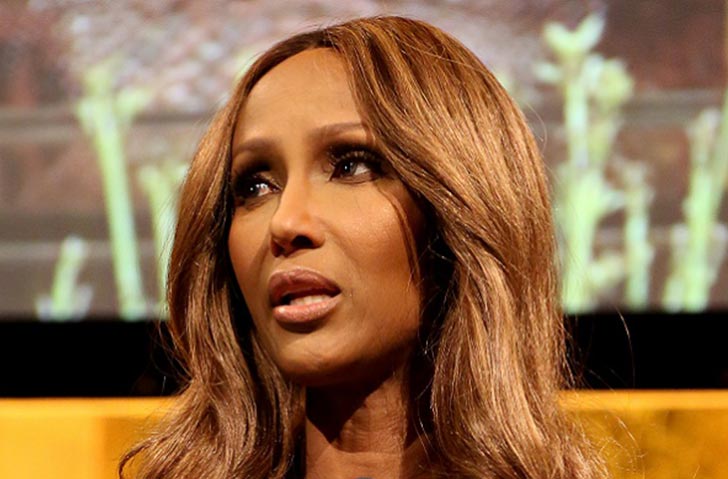 WHILE THE FIRST FAMOUS African American supermodels came from blue collar backgrounds, the first Africans were the well-to-do daughters of tribal kings and diplomats, who were educated and well-travelled. Yahne Sangare was a Liberian diplomat's daughter, who combined modelling with a post as a news correspondent for the United Nations. She had studied at the Sorbonne in France, and attended finishing school in Switzerland.
IMAN ABDULMAJID BIO
Somali-born Iman Abjulmajid was also a diplomat's daughter. A university major, fluent in five languages, she was discovered on the streets of Nairobi, Kenya, by fashion photographer Peter Beard in 1975. At the time she had never worn make-up or even seen a fashion magazine. The naïve 19-year-old became part of an elaborate publicity hoax devised by Beard in which he told the American press that she was an illiterate tribeswoman, discovered while tending to her family's herd on the Kenyan plains. Derogatory as this exotic fiction was, it launched Iman into the epicenter of fashion in the USA, and she went on to become the most successful African model of her generation.
FAMOUS AFRICAN MODELS
Iman's success as the first famous African fashion model peaked in 1979 when she became the first model of colour to sign an exclusive cosmetics contract — for Revlon's Polished Ambers, a new make-up line for dark skins — in a deal worth a reported $150,000.
Despite the successes of these early famous African beauties, their presence was not wholly accepted by their African American counterparts. The African beauties were seen as competition by their fellow models, who saw no reason for fashion to import African girls when there were plenty of homegrown black models. In Iman's case, when she first arrived on the scene, there was also an intolerance of her Somali nationality, and its particular strain of beauty, with its fine bone structure and Nefertitian hauteur. For some, this look was considered more European than black, despite its staunch North African roots. This intolerance escalated in 1976 when Marcia Ann Gillespie, then Editor-In-Chief of Essence, famously stated that Iman looked like a "white woman dipped in chocolate." It was a cutting statement that resonated throughout the industry, and exposed the ignorance of many to the broad aesthetic diversity of what is generally referred to as "African beauty".
Since these days, Iman, once married to rock star David Bowie, (who died of cancer on January 10, 2016) has gone from strength-to-strength. The 61-year-old fronts her own beauty line, Iman Cosmetics, and is well-known for her philanthropic work around the world.
BEAUTY BIO: Model, cosmetics entrepreneur and wife of the late David Bowie, Iman Abdulmajid was fashion's first famous African model - but her Somali nationality was not initially received well by her African American counterparts. (
Iman photographed in April 2014, by Platon for 'The Observer').
The Creativity of Author, Designer & Publisher Ben Arogundade
AFRICAN QUEEN: Iman Abdulmajid Bowie was the first of the famous African models to break into fashion. (From the top); Iman graces the front of German 'Vogue', April 1982. Iman together with her late husband, music legend David Bowie. Iman's many poses, photographed by Sølve Sundsbø.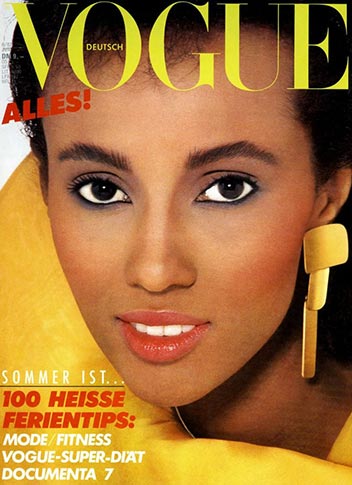 *IMAN BOWIE & AFRICAN MODELS - THE STATS
1,000
The number of people worldwide who Google the phrase, "Famous African fashion models" each month.
100,000
The number of people worldwide who Google Iman Abdulmajid Bowie's name each month.
*All figures for "Iman Bowie & African Models - The Stats", supplied by Google. Stats include global totals for laptop and desktop computers and mobile devices.