PHOTO VIDEO OF BLACK MELANESIAN BLONDES
African American Women In History: Black Girls With Blonde Hair - From The 1950s To Now
BLONDE HAIR IS THE HOTTEST look for black female recording artists. But far from being new, the color has a long history amongst African American women. By Ben Arogundade. [Sept.14.2016]
THERE ARE FEW MORE STRIKING aesthetic contrasts than blonde hair on black skin. Until recently, it was believed that people of African heritage who possessed naturally blonde hair had acquired it as the result of having European ancestry. But new evidence uncovered by researcher Carlos Bustamante and a team from Stanford University suggests that in some black people, natural blonde hair occurs separately from Caucasian genes.
BLACK WOMEN BLONDE HAIR
In 2012 they analysed DNA samples from the indigenous Solomon Islanders of the South Pacific, who typically have some of the darkest skin pigments outside of Africa, and where up to 10 per cent of the population possess naturally blonde curly hair — the highest proportion outside Europe. Bustamante and his team analysed a series of saliva samples from 43 blonde and 42 dark-haired Solomon Islanders. They discovered a gene called TYPR1 that only occurred in the blonde-haired individuals. Crucially, this gene is distinct from the one that produces blonde hair in Europeans. It is thought to have cropped up around 10,000 years ago, and is likely to be the same gene that accounts for blonde hair amongst the Fijian population and other peoples within the South Pacific region.
"Before this, everybody would have thought blonde hair evolved once in humans," said Bustamante. "This tells us we can't really assume that even these common mutations are common across different human populations. Non-European populations are critical to study to find mutations that may be underlying the vast phenotypic variation of humans."
BLONDE HAIR DYES AND WEAVE HAIRSTYLES
Alongside nature's black blondes, historical fashion and hair and beauty trends have played a major part in creating the desire amongst dark-haired people to become artificially blonde. 1950s Hollywood was the era in which the blonde came to epitomise Western beauty values, through actresses such as Brigitte Bardot and Marilyn Monroe. Also, the invention of Lady Clairol in 1956 was revolutionary, as it meant that women could dye their hair blonde at home. Although none of this culture was aimed at African American women, they too were affected by blonde ambition. Singers Joyce Bryant and Dinah Washington — the Rihanna and Beyoncé of their day — were early adopters of dyed blonde hair, as was the late Dorothea Towles, a fashion model who went platinum in Paris as early as 1952. "I stopped traffic," she recalled. The 1990s saw a second wave of black blondes such as Lil' Kim, Ru Paul and Mary J Blige, only by this time weave hairstyles had been invented, making for greater versatility in styling.
THE MODERN BLACK BLONDE GIRL
Black blondes live on in the 21st century, lead by three of music's biggest stars — Nicki Minaj, Beyoncé and Rihanna. The weaves have become more elaborate, colourful and outlandish, and these stars have almost singlehandedly expanded its creative possibilities in their push for distinctiveness within the image hungry arena of pop. Ultimately, their hair may be fake, but their desire to be blonde is real.
Ben Arogundade's book 'Black Beauty' is out now.
BLACK AND BLONDE: Nicki Minaj and Beyoncé are two of music's most prominent black women who sport dyed blonde hair and weaves. African American girls with blonde hair is not new — the practice dates back to the early models and singers of the 1950s.
The Creativity of Author, Designer & Publisher Ben Arogundade
Home
Books
About
Articles
MORE ABOUT CELEBRITY HAIR & BEAUTY
WHITE ON BLACK: Since the 1950s, black and African American singers and models have dyed their hair blonde or worn blonde wigs and weaves. From the top; 1960s model Dorothea Towles makes the November 1959 cover of African American magazine 'Sepia'. A blonde Rihanna makes the November 2011 cover of British 'Vogue'. NATURAL BLONDES: Amongst the Melanesian people of the Solomon Islands blonde hair is not the result of European ancestry, as previously thought, but is actually the result of a genetic adaptation that occurred approximately 10,000 years ago.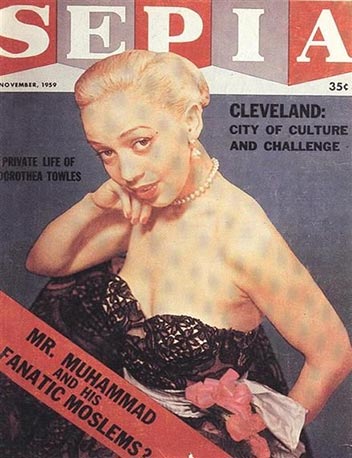 *BLACK BLONDES AND BLONDE WEAVE HAIRSTYLES - THE STATS
100
The number of people worldwide who Google the phrase, "African American blonde" each month.
4,000
The number of people worldwide who Google the phrase, "Blonde weave" each month.
3,000
The number of people worldwide who Google the phrase, "Black people with blonde hair" each month.
*All figures for "Black Blondes And Blonde Weave Hairstyles - The Stats", supplied by Google. Stats include global totals for laptop and desktop computers and mobile devices.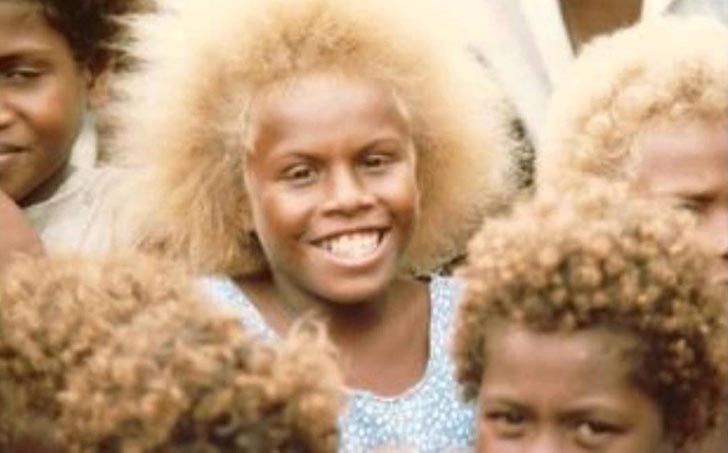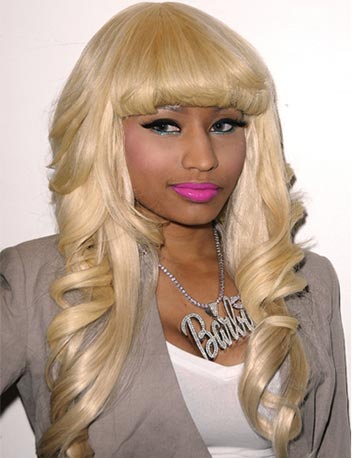 RED RIHANNA
Remember That Period? Revisit The Amazing Archive Of All Rihanna's Crimson Hairstyles.
THE BEAUTY RANK
The Top 10 Most Popular Hairstyles In The World: Guess Where Beyoncé Ranks?