*AFRICAN ACTRESS LUPITA NYONG'O ACCORDING TO GOOGLE SEARCH
600
The number of people worldwide who Google the phrase "
African actresses

" each month.
4,500
The number of people worldwide who Google the phrase "Beautiful African women" each month.
823,000
The number of people worldwide who Google Lupita Nyong'o's name each month.
*All figures for "African Actress Lupita Nyong'o According to Google Search", supplied by Google. Stats include global totals for laptop and desktop computers and mobile devices.
THE BLACK BEAUTY of African film star Lupita
Nyong'o startles next to the line-up of today's

other black actresses — the dark shiny skin, the short boyish Afro hair — it's an aesthetic that is both rare and proudly African

when viewed against

the contemporary

homogenised

beauty landscape of straight hair, weaves, blonde extensions and

other falsies

. Her niche is contrast, with a look that is more Sidney Poitier than Halle Berry.

The

man-ish

hair

, tight and boldly

minimalist

, acts only to push forward the femininity of her face. A search

amongst today's

famous

black women

reveals that the closest

aesthetic

to Nyong'o's beauty is Sudanese-born supermodel Alek Wek — a woman whose look took time to permeate the narrow visual stereotypes that so dominate the fashion industry.
AN AFRICAN BIOGRAPHY
The second of six siblings, Lupita Nyong'o was born in Mexico on March 1, 1983, the second of six children. She was raised in western Nairobi, Kenya, and educated in the United States, where she attended the Yale University School Of Drama. She is
a member of

Kenya's Luo tribe — the same ethnic group as Barack Obama's father.
The catalyst for
the 31 year old beauty's move to become an actress

was watching African American

star

Whoopi Goldberg's performance in the 1985 Steven Spielberg film, The Color Purple. "I saw Whoopi Goldberg, and she looked like me — and I said, Oh, I can do this for a living. That's when it really became a bug." Her first experience in Hollywood film was as a production assistant and PA to Rachel Weiss and Ray Fiennes on the set of the film The Constant Gardener (2005), which was being shot in her neighbourhood.
12 YEARS A SLAVE
Nyong'o received plaudits this year for her
Oscar-winning

big screen

debut

— her

heartbreaking portrayal of slave cotton picker

Patsey in the unflinching film 12 Years A Slave,

a

historical drama based on the eponymous 1853 autobiography of New Yorker Solomon Northup, a free African American who was kidnapped and sold into slavery in the antebellum south. "I was given the opportunity and the responsibility to have her [Patsey's] story and her spirit live on," Nyong'o told The Times.
LUPITA NYONG'O IN FASHION
The success of 12 Years A Slave (three Academy Awards) and her performance in particular, catapulted the 31-year-old African actress into the Hollywood limelight, and with it, the attention of the major fashion designers, from Prada to J. Mendel, who are keen to have her wear their creations at work and play. In April 2014 she became the new face of make-up brand Lancome. She is fast turning into a fresh and alternative kind of role model for our times — stylish, studious, smart and Afro-natural.
Ben Arogundade's eBook Black Beauty is out now.
BLACK BEAUTIFUL: African supermodel Alek Wek boasts the same look — dark skin and short natural Afro hair — as Oscar-winning African actress Lupita Nyong'o.
WATCH: LUPITA NYONG'O'S SPEECH ON BLACK BEAUTY - ESSENCE BLACK WOMEN
MYSTERIOUS BEAUTY
Discover What 10,000 Fans Want To Know About Paula Patton.
BLACK = UGLY
The Shocking History Of Black Beauty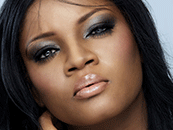 Movie News: 36,000 Google Lupita Nyong'o's Biography, Parents Nationality, Age, Height, Hair, Dresses
EVER SINCE ACTRESS LUPITA NYONG'O won an Academy Award for '12 Years A Slave', online interest in the details of her life has reached fever pitch. By Ben Arogundade. [Rev:Oct.10.2014]
LUPITA QUESTIONS: Ever since Kenyan actress Lupita Nyong'o rose to fame, the details of her life, such as her age, height, hairstyle, dresses and her parents nationality, have been Googled intensely by her fans globally.